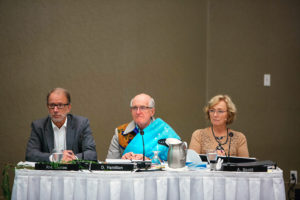 The controversial National Energy Board review of the Kinder Morgan project lasted over two years, and generated key milestones for organizing to stop the pipeline, both inside and outside the formal NEB process.
Alongside acting as an intervenor in the NEB's review, GSA joined our allies in highlighting the many flaws in the process, and the increasing loss of public confidence in the NEB as a regulator. Following the 2015 federal election, we worked together to call on the new government to follow through on its promise to redo the Kinder Morgan review. In February 2016, the government announced an additional review process for Kinder Morgan, including a new round of First Nations and public consultation, and a partial climate test.
In May 2016, the NEB recommended that the project be approved, with 157 conditions. Despite an overwhelming show of opposition at the Ministerial Panel public meetings, and a Panel report that asked the government some very difficult questions, Cabinet approved Kinder Morgan in November 2016. The provincial government followed with a green-light in January 2017, a move that British Columbians rejected resoundingly in the May provincial election.
Now, the front-line of the battle to stop Kinder Morgan has shifted to the courts, the streets, and the ballot box.
GSA's participation in the NEB review