Learn about:  Ecology – Geology – Economy – Threats
---
Where is the Georgia Strait?
The Strait of Georgia lies between Vancouver Island and the British Columbia mainland, with the Canada-US border running to its south. It is about two-thirds the length of Vancouver Island, running from its southern tip, north to where its waters narrow to almost meet the mainland coast. This northern area is choked with small islands and rapid tidal passages. Beyond that point, Johnstone Strait stretches northwest to meet Queen Charlotte Strait, then the open Pacific Ocean.
This beautiful inland sea is 220 km (135 miles) long and at its narrowest point, about 25 km (15 miles) wide. The mean depth of these waters is 156 metres (512 ft), with a maximum depth of 447 metres (1,467 ft). Its surface area is approximately 6,800 square kilometres (2,600 sq mi).
Did you know? Mariners often called it the "Gulf of Georgia", as that was the name Captain George Vancouver mistakenly gave it in 1792, and how it appeared on early maps and charts. This is why the hundreds of islands located here are called the Gulf Islands.
The Salish Sea
Georgia Strait, Puget Sound and the Strait of Juan de Fuca are together known as the Salish Sea  (outlined in red on the map above), in recognition of the Coast Salish peoples who have lived in this region for millennia. Together, these bodies of water form a huge estuary system, a place where hundreds of rivers flow into the sea. From tiny creeks, all the way to the huge Fraser River, these fresh water sources help to feed and shape the unique characteristics of the region and make the Strait of Georgia a body of water rich with a great diversity of life.
Georgia Strait is among the most biologically productive marine ecosystems in the world, providing critical habitat for a huge diversity of fish, marine mammals, invertebrates, shorebirds and marine plants – and it needs our protection.
---
Ecology of the Strait
---
The Strait supports an estimated 3000 species of marine life and has a wide variety of marine habitats.
Estuaries
From a biological point of view, the most productive habitats in the region are estuaries – the places where rivers meet the sea, and freshwater gradually mixes with salt. As well as being vital for fish and wildlife, salt marshes and other wetland vegetation serve as the "kidneys" of the ecosystem, trapping and holding water and air-borne contaminants such as the sulfur in acid rain.
The Fraser River carries rich silt and fresh water far across the Strait. This 850-mile long river drains over 20 million hectares — one-quarter of BC. The Fraser has the largest salmon runs in North America and its estuary is a vital stopover for migrating birds from three continents.
---
---
Diversity is Key
The Strait is made of a myriad of habitats – intertidal zones, deep water regions, rocky reefs, wetlands and glass sponge reefs, to name a few – that support a huge variety of plant and animal life including:
seals, porpoises, killer whales, sea lions and other marine mammals
at least 200 species of fish including forage fish and five species of wild salmon
more than 1500 invertebrate species
hundreds of species of seabirds and shorebirds
about 500 marine plant species, including 200 varieties of seaweeds
Meet some other interesting creatures that call the Strait home.
Did you know? Protection of species at risk such as the southern resident killer whale is one of the motivators that inspired the formation of the Georgia Strait Alliance? Our species protection work remains an important part of our organization today and is at the heart of many of our programs and initiatives.
---
Geology
---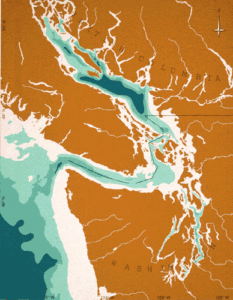 The Salish Sea is born…
150 million years ago, colliding continental plates created the Georgia Depression. Within the Depression are the Strait of Georgia and Puget Sound, together known as the Georgia Basin.
14,000 years ago, a slow moving river of ice flowed through the Fraser Valley and formed the Strait of Juan de Fuca, the body of water that separates Vancouver Island from the Olympic Peninsula in Washington State.
The enormous glaciers carved hills and valleys and their slow meltdown and retreat made room for the temperate climate which characterizes the Georgia Basin today.
The Coast Salish people have lived here since the glaciers retreated. They called the region "Sqla-lot-sis" [phonetic pronunciation], which means "homeland".
---
What's happening now?
Rocks are forming today in a great tectonic 'kitchen' below southwestern BC. Fueled by heat from the earth's interior and collision between continental North America and the undersliding oceanic plate, this kitchen produces a variety of rock types along with earthquakes and rising mountains. Sediment eroded from mountains accumulates in basins such as the Strait of Georgia and converts with deep burial to sedimentary rocks. Forces of tectonic collision deform deep crustal rocks into new metamorphic rocks. Melted rocks cool to form bodies of igneous granitic rocks. Where these rock melts rise to the surface, volcanoes are built. Ongoing uplift and erosion of mountains over time bring deeply buried rocks to the surface.
Learn more about the geology of the region
---
Economy
---
Georgia Strait is essential to residents of the region for income, transportation, recreation and quality of life.  It's a working body of water that supports economic engines for the province including being a magnet for tourists from all around the world.
These waters have been, and continue to be, important for commercial, sports and aboriginal fishing. The shellfish industry is also economically important, with many shellfish growers located in communities around the Strait. Many others work on these waters in transport, towing and other forms of marine commerce, including being home to Canada's biggest port, which handles 135 million tonnes of cargo every year.  In addition, a wide range of small and large businesses depend on these waters – from restaurants to cement plants and logging boom grounds.
Georgia Strait is the heart of this region – for our communities and our economy, and for the many creatures who call it home.

---
Threats
---
In 1970, Canada's federal parks branch called Georgia Strait "one of the world's most spectacularly beautiful and ecologically rich areas" close to a population concentration.
Today, Parks Canada calls southern Georgia Strait "the most at-risk natural environment in Canada".
The Strait and its watersheds face serious environmental problems – the bulk of these caused by the region's rapid human population growth and the urbanization and development that has come with it.
Our population around the Strait is expected to increase from its current level of about 3 million, to over 4 million by 2020. If the population of adjacent Puget Sound is factored in, these figures rise to about 8 million today and nearly 10 million by 2020.  Urban development and sprawl are an incredible stressor on the Strait.
Marine life in our region faces many threats. These include toxic chemicals from industry and municipalities, oil spills (small and large), climate change, destruction of critical habitat, mismanagement of fisheries and marine resources, and many other impacts.
Georgia Strait is still a biologically rich and beautiful place. It's not too late to turn the tide: if we work together to find the solutions to protect these waters and the life in them, we can turn around the damage that's been done and create a more sustainable future for this region and its communities.
---
Did you find what you're looking for?
If not, maybe we can help! Contact Us
---
Stay Informed about what's going on around the Georgia Strait!
Sign up for our monthly e-newsletter
Follow Us