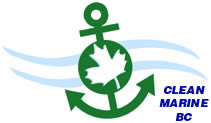 Sewage from boats harms the environment, particularly in busy or poorly flushed anchorages, and sensitive areas such as shellfish beds. In Canada, it is illegal to dump sewage from boats within three nautical miles of shore (unless pump-outs are not available, and you cannot get three miles off shore).
Use pump-out services where available – otherwise, ensure that you are in open waters, or as far off shore as possible in the fastest flowing ebbing waters, before emptying your holding tank.

Visit our boater sewage and grey water page for more information, tips and resources.
---
List of pumpouts
Name
Location
Details
Contact Info
Fee
Website
Alert Bay Harbour Authority
Alert Bay, Cormorant Island
Summer hours 7 am to 3 pm. Bins available for waste disposal and recycling.
(250) 974-5727
Free
here
Mosquito Creek Marina
North Vancouver
Pumpout subject to availability
(604) 987-4113
$12
here
Fairwinds Schooner Cove Marina
Nanoose Bay
Pumpout station open all year.
(250) 468-5364 | VHF 66A
$8
here
Sayward Harbour Authority
Sayward
Pumpout station open May to October.
(250) 282-0178
Small fee.
here
Vancouver Marina
Richmond
Located at Fuel Dock. Easy access. Fuel dock staff there to help with lines and assist with pumpout. Open 7am to 8pm in Summer, and 8:30 - 4:30 in off season.

Pump out is vacuum style and has 50 GPM capacity.
(604) 278-9787
Free with 100 litre miniumum fuel purchase ~or~ $10/50gallon cycle. Pumpout is free for Vancouver Marina customers.
here
Greater Victoria Harbour Authority
Victoria
Pumpout station open all year. Located at Fisherman's Wharf Dock B. GVHA also offers a mobile pumpout service for long term liveaboard moorage customers at our marinas.
(250) 383-8326 | VHF 66A
$5 self-operated.
Tokens can be purchased from the Marina Office, marina dock staff and the fuel dock.
here
Port Alberni Fishermen's Harbour
Port Alberni
Hours 8-4 weekdays (Summer includes Saturday & Sunday)
Sani dump located below the office
fishermensharbour@alberniport.ca | (250) 723-2533
$13.00
here
Heather Civic Marina
False Creek, Vancouver
Pumpout station open all year, 24 hrs for self serve. Staff available to assist May long weekend to Labour Day 7am to 7pm , Rest of year 7am to 4:30pm.
(604) 874-2814
Free
here
Malcolm Island Lions Harbour Authority
Sointula
Open spring to fall, and dependent on weather in winter.
(250) 973-6544
Free
here
Point Roberts Marina
Point Roberts, Washington
Pumpout station open all year. 24 hours a day, 7 days a week. Self-serve. Used oil recycling onsite.
(360) 945-2255 | VHF 66A
Free
here
Angler's Anchorage Marina
Brentwood Bay, Victoria
Pumpout available for moorage patrons only.
(250) 652-3531
Included in moorage
here
Harbour Authority of Porpoise Bay
DFO Government Dock, Porpoise Bay
Open all year, 24 hours
(604)740-7528
Free
here
Bayshore West Marina
Coal Harbour, Vancouver
Pumpout available for moorage patrons only.
(604) 689-5331
Included in moorage
here
Burrard Civic Marina
Vancouver
Pumpout station open all year, 24 hrs for self serve. Staff available to assist May long weekend to Labour Day 7am to 9pm.
(604) 733-5833
Free
here
Port Sidney Marina
Sidney
Pumpout station open all year, max vessel size 40'. Summer hours 8am -7pm, off-season hours 8:30am - 5pm
(250) 655-3711 | VHF 66A
$10
here
Coast Harbourside Marina
Victoria
Pumpout available April to October, 8am to 4pm. For overnight guests only.
(250) 360-1211
$12.50 plus tax
here
Reed Point Marina
Port Moody
Pumpout available for moorage patrons only.
(604) 937-1600
Included in moorage
here
Shelter Island Marina
Richmond
Pumpout available year round for moorage patrons. For others, contact marina. Open M-F, 8am-4:30pm, Sat. 8am-3:30pm, closed Sunday.
(604) 270-6272
Free for moorage patrons. Others call for info.
here
Dungeness Marina
Cowichan Bay
Pumpout station open all year. Call ahead.
(250) 748-6789 | VHF66A
$20 min.
here
Quayside Marina
Vancouver
Pumpout subject to availability. Call ahead. Summer open everyday 9am - 6pm. Otherwise open 9am - 5:30pm except holidays.
(604) 681-9115 | VHF 66A
$25 for public. Free for patrons
here
Gibsons Landing Harbour Authority
Gibsons
Pumpout station open all year. Summer hours 7:30am - 5:30pm except TH - SU to 7:00pm, winter 7:30am - 5:30pm daily
(604) 886-8017 |
VHF 66A
$10.50
here
False Creek Yacht Club
1661 Granville Street, Vancouver
Pumpout station open all year. Call ahead. 9am to 5pm.
(604) 648-2628 |
VHF 66A
Free
here
Union SteamShip Company Marina
Bowen Island
Pumpout station open all year. Located at aircraft float - end of A dock. Call ahead for availabiity
(604)-947-0707 Ext.1 | VHF66A
$10
here
Ladysmith Community Marina
Ladysmith
Pumpout station open all year. Tokens are required.
(250) 245-1146 ext. 2 | VHF 66A
$10
here
Port of Nanaimo Eco-barge
Nanaimo
Pumpout station open all year. Disposal available on land for used oil, contaminated matter, garbage and recycling.
(250) 754-5053 | VHF 67
Free
here
Mill Bay Marina
740 Handy Road, Mill Bay
Pumpout station on fuel dock. Open all year. Summer 8am - 8pm, Spring / Fall 9am - 5pm, Winter 9am - 4pm.
(250) 743-4303 | VHF 66A
$20
here
Powell River Harbour Authority
Powell River
Pumpout station open May to September, 11am - 3pm. Self-serve.
(604) 485-5244
Free
here
Maple Bay Marina
Maple Bay, Duncan
9:00 AM to 5:00 PM Daily
info@maplebaymarina.com | (250) 746-8482
$5.00 (no charge until August 1, 2018)
here
Campbell River Harbour Authority
Campbell River
Pumpout station open all year, allow extra time in freezing weather. Fuel dock will change oil and dispose of
(250) 287-7931
$10 (up to 30 gal.)
here
Comox Harbour Authority
Comox
Pumpout station open April to October.
Disposal for used oil and oily rags etc., cardboard recycling and garbage.
info@comoxharbour.com | (250) 339-6041
$7
here
Port Hardy Harbour Authority
Port Hardy
Located at Fisherman's Wharf.
(250) 949-0336 | VHF 66A
$10.20 + tax up to and including 12 metres (40 feet)
$27.68 + tax beyond 12 metres, 40 feet
Rates subject to annual municipal tax increases
here
Port McNeill Harbour Authority
Port McNeill
Pump out available all year during office hours. May - September 8:30-17:30 and October - April 8:30-16:30. Disposal for used oil, cardboard recycling and garbage.
info@portmcneillharbour.ca | (250) 956-3881 | VHF 66A
$10/use
here
Tofino Harbour Authority
4th St Harbour, Tofino
Pump out station open year round, located at loading zone on A finger
(250) 725-4441
$10+gst
here
Harbour Authority of Pender Harbour
Madeira Park
Pumpout station open all year. Located at Madeira Park Public Dock.
(604) 883-2234
$10 including tax.
here
False Creek Harbour Authority
Fishermen's Wharf, False Creek, Vancouver
Staff operated pumpout station open all year 8:30 am to 3:30 pm. Check in at office. Located at end of F Dock (Customs). Used oil disposal.
(604) 733-3625 | VHF 66A
$6
here
Lion's Gate Marina
1331 McKeen Avenue, North Vancouver
Pumpout station open to customers.
(604) 985-5468
$1.25/foot
here
Cowichan Bay Fisherman's Wharf
Cowichan Bay
Pumpout station open all year.
(250) 746-5911 |
VHF 66A
Free, donations accepted.
here
Deep Bay Harbour Authority
Bowser
Pumpout station closed during the winter.
(250) 757-9331
Free
here
Van Isle Marina
Tsehum Harbour, Sidney
Pump-out located at the Fuel Dock which is open from 8 am to 4 pm 7 days a week in the winter and 8 am to 8 pm 7 days a week in the summer.
(250) 656-1138
0-29' $10.00, 30-49' $15.00, 50+' $20.00
here
Lund Harbour Authority
Lund. Public Dock.
Pumpout station open all year
(604) 483-4711 | VHF 73
$10
here
Saltspring Island Harbour Authority
Breakwater Dock, Saltspring Island
South end of the Breakwater float, where the float planes land.
harbour@hassi.ca | (250) 537-5711
$10.00 (4 toonies and 2 loonies) Self serve, open spring to fall during non freezing periods.
here
Squamish Harbour Authority
Squamish
Available 24hrs.
(604) 892-3725 | catherine@hasquamish.ca
Free
here
False Creek Mobile Pumpout - City of Vancouver
False Creek, Vancouver
Thurs to Mon, 1pm - 5pm from June to September, available holidays. Call, email, or flag down the mobile pump-out boat. Available for False Creek only.
(778) 683-7867 | pumpout@skookumyachtservices.com
Free
here
Coal Harbour Marina
Coal Harbour, Vancouver
Portable pumpout available to annual tenants and overnight guests only. Max vessel size 60'.
(604) 681-2628
Contact marina for rates
here
Ganges Coast Guard Dock
Ganges, Salt Spring Island
Open 24 hours
(360) 301-9999 | flyingfedup@aol.com
4-toonies, 2-loonies for 7 minutes
here
Gibsons Marina
Gibsons
Service only available for annual moorage patrons.
(604) 886-8686 | VHF 66
Contact marina for rates.
here
Crescent Beach Marina
Surrey
Pumpout station open all year.
(604) 538-9666
$10
here
Ucluelet Harbour Authority
Ucluelet
Pumpout station open all year.
(604) 726-4241
$5
here