Georgia Strait Alliance organizes, hosts, and participates in dozens of events throughout the region each year. These events are a great chance to connect with the community, letting you know more about who we are and what we do, while raising awareness about the issues we care so deeply about. Plus, we have a lot of fun at the same time! Come out for a fun day of exploration, education and adventure at Water's Edge Day, and be inspired and motivated at the Festival of Ocean Films. And that's just the start!
---
Upcoming Events…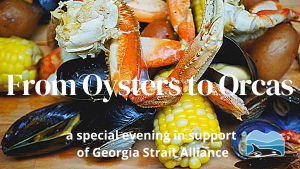 From Oysters to Orcas – Takeout Edition!
Thursday, March 11th 2021
Looking for an experience to break up the winter? Join Georgia Strait Alliance and Fanny Bay Oysters for From Oysters to Orcas – Takeout Edition! This virtual fundraiser and culinary treat brings lovers of seafood and the ocean together to share delicious local dishes and stories of our love of the Salish Sea.
This year, Fanny Bay Oysters is offering two options for our guests, all from the comfort of your own home! Don't worry if your shucking skills are a little rusty. The packages include a complimentary shucking knife and Fanny Bay staff will give us a shucking lesson to start the evening off on a fun note.
The Vancouver Takeout Edition (available for pickup or delivery from Fanny Bay's 762 Cambie St location) includes Fanny Bay's famous Shucker's Dozen Oysters and the Seafood Boil Feast, for $200.
The Island Takeout Edition (available for pickup only from Fanny Bay's Seafood Shop in Buckley Bay on Vancouver Island) includes a dozen oysters for $50.
The Program
You're invited to join us live on Zoom for a brief program to bring us all together in real time. You'll hear about how GSA has adapted and continues to be effective in these unusual times, thanks to the ongoing generosity of supporters like you. We will also have a musical performance by a local artist, and you'll have the opportunity to virtually mingle with some of your fellow guests, almost like a real cocktail party mixer! Chef Tommy will end the program with some tips and tricks from the kitchen, and you will be off to prepare your dinner.
Wait, there's more!
­For the past three years, Fanny Bay Oysters has donated the food, their Yaletown restaurant and service for the annual From Oysters to Orcas fundraiser, so all the proceeds from ticket sales have gone to support GSA's marine conservation work. This year, with restaurants struggling to survive through the pandemic, we are turning the tables to support this wonderful local business. Georgia Strait Alliance will be paying full retail for the food, with the balance of the ticket cost supporting our work. You'll be supporting Fanny Bay Oysters and Georgia Strait Alliance – it's an event we can all feel good about!
JOIN US!
Zoom event
March 11th 6:00-7:00 PM
Food Kit availability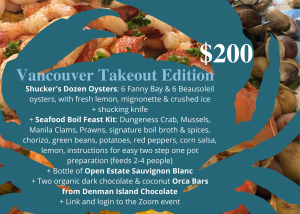 Pick-up from Fanny Bay Oyster Bar & Shellfish Market,
762 Cambie Street, Vancouver, BC|
March 10th or 11th between 10:00 AM and 5:00 PM
Delivery options available when tickets purchased
https://bit.ly/3pS8B80 ($200*)
Share the Vancouver event on Facebook: https://bit.ly/3k5RIW2
OR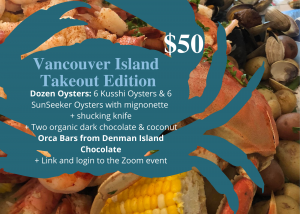 Pick-up from Fanny Bay Seafood Shop,
6856 Island Hwy S #1, Fanny Bay, BC | March 10th or 11th between 10:00 AM and 5:00 PM
https://bit.ly/3spPYtE ($50*)
Share the Vancouver Island event on Facebook: https://bit.ly/3koaLLn
*Tickets are partially tax-deductible
SEE YOU THERE!
* If the seafood option does not work for you, but you'd like to join us on Zoom or simply donate in support of this cause, you can donate here and we will send you the Zoom link.
---
Check back often for more exciting events!
---
Check back often for new events in a community near you, or keep up to date on events by following us on Facebook, Twitter, and Instagram. These events take place on the traditional, ancestral, and unceded territories of the Coast Salish peoples.