Georgia Strait Alliance organizes, hosts, and participates in dozens of events throughout the region each year. These events are a great chance to connect with the community, letting you know more about who we are and what we do, while raising awareness about the issues we care so deeply about. Plus, we have a lot of fun at the same time! Come out for a fun day of exploration, education and adventure at Water's Edge Day, and be inspired and motivated at the Festival of Ocean Films. And that's just the start!
---
Southern Resident Orcas: Combatting Contaminants for Healthy Habitats
Wednesday, May 12, 2021
4:30 PM – 5:30 PM PDT
The waters orcas call home contain chemicals that can accumulate up the food chain and cause negative effects to orcas and their prey (Chinook salmon). Environmental Quality Guidelines can be used to assess whether a contaminant is present at a level that poses a risk to the environment.
Join GSA and Environment and Climate Change Canada (ECCC) to explore the impacts of contaminants on Southern Resident orcas and what the Government of Canada is doing to tackle this threat.
Speakers:
Shinjini Pilon, Program Scientist with the Whales Initiative Contaminants Team at Environment and Climate Change Canada
Kathleen McTavish, environmental quality guidelines specialist with the National Guidelines and Standards Office (NGSO) of Environment and Climate Change Canada
Salish Sea Green Boating Happy Hour
Wednesday, May 26, 2021
5:00 PM – 6:30 PM PDT
Join GSA and Washington Sea Grant for an interactive webinar for tips and resources to protect the Salish Sea from potential boater impacts. Participants will leave with an understanding of clean boating practices they can implement in the Salish Sea and how to reduce boater impact to aid in the recovery of the Southern Resident Orcas.
Speakers:
Michele Young, Clean Marine BC Coordinator, Georgia Strait Alliance
Aaron Barnett, Environmental Outreach Specialist, Washington Sea Grant
Blair Englebrecht, Boating Programs Manager, Puget Soundkeeper Alliance
Plogging for Orcas Challenge
June 1-30, 2021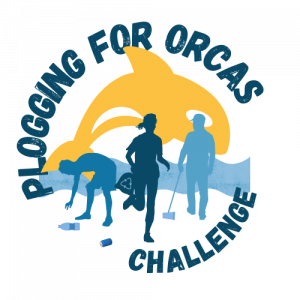 In celebration of Orca Month, join our Plogging for Orcas Challenge, a fun campaign that makes you pledge to plog (pick up litter + jog, although for this challenge you can walk, hop or roll!) during the month of June while raising funds for Georgia Strait Alliance's efforts to keep the Salish Sea clean and support the protection and recovery of endangered Southern Resident orcas and other marine species in the Salish Sea.
For more information, click here.
---
Check back often for more events!
---
Check back often for new events in a community near you, or keep up to date on events by following us on Facebook, Twitter, and Instagram. These events take place on the traditional, ancestral, and unceded territories of the Coast Salish peoples.