Georgia Strait Alliance organizes, hosts, and participates in dozens of events throughout the region each year. These events are a great chance to connect with the community, letting you know more about who we are and what we do, while raising awareness about the issues we care so deeply about. Plus, we have a lot of fun at the same time!
Come out for a fun day of exploration, education and adventure at Water's Edge Day, and be inspired and motivated at the Vancouver Festival of Ocean Films. And that's just the start!! Check back often for new events in a community near you.
---
Upcoming Events
Vancouver:
VANCOUVER INTERNATIONAL BOAT SHOW
We hope you will stop by our booth #247 to say hello, and to grab your updated Guide to Green Boating!
February 6th to 10th, 2019
BC Place Stadium
Wednesday to Saturday 10:00am-8:00pm
Sunday 10:00am-5:00pm
You can also join us in the seminar series for our presentation on "Sharing the Strait with Killer Whales", Thursday at 12:15pm.
Vancouver:
FROM OYSTERS TO ORCAS
SOLD OUT!
Join other supporters of a sustainable Salish Sea for this feast in support of Georgia Strait Alliance, at Vancouver's only tide-to-table oyster bar. Your $150 ticket includes hors d'oeuvres, oyster shucking lessons, and a seated dinner of delicious local specialties and beverages. Thanks to our sponsors Fanny Bay Oyster Bar & Shellfish Market, Lighthouse Brewing Company, and Sea Star Estate Farm & Vineyards.
February 26th, 2019
Fanny Bay Oyster Bar & Shellfish Market
762 Cambie Street, Vancouver
6:30pm-7:30pm
Reception
wine, beer, hors d'oeuvres and oyster shucking lessons
7:00pm-9:00pm
Seated Gourmet Dinner
followed by remarks, and Q&A period over dessert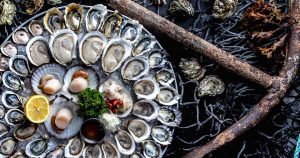 ---
Keep up to date on events by following us on Facebook, Twitter, and Instagram.