Georgia Strait Alliance organizes, hosts, and participates in dozens of events throughout the region each year. These events are a great chance to connect with the community, letting you know more about who we are and what we do, while raising awareness about the issues we care so deeply about. Plus, we have a lot of fun at the same time! Come out for a fun day of exploration, education and adventure at Water's Edge Day, and be inspired and motivated at the Festival of Ocean Films. And that's just the start!
---
Campaigning 101 Workshop Series
Through a series of four interactive, participatory online and in-person sessions (weather- and safety-dependent), you'll learn introductory tools and tactics to set you up to create positive change in your own community on issues important to you.
Workshop 4 – Taking Action and Building Community Power
Saturday, May 28, 2022 | 1-4PM | Kitsilano Community Centre
Cost to register: Free!
Gain practical experience in the skills and tools necessary for building community power, engaging with the public on an issue and how to turn interest into a commitment; walking up to strangers to talk about an issue and obtain support through a petition; and how to build relationships for growing your constituency.
Learn more about the series and register online.
---
Seaweed Tour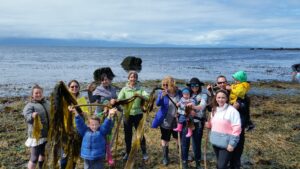 Join Diane Bernard, the "Seaweed Lady" and Seaflora Skincare founder, for a Wild Seaweed Tour in Sooke – a fundraiser for Georgia Strait Alliance.
Saturday, June 18, 2022 | 12:00-1:30PM
Cost to register: This is a by donation event, suggested donation $20 per person. 100% of proceeds go to Georgia Strait Alliance. Get your ticket on Eventbrite!

Seaflora Skincare & Georgia Strait Alliance invite you to experience wild organic seaweeds with a one-of-a-kind Wild Seaweed and Thalassotherapy Tour during low tide in Sooke's ocean garden.
The Salish Sea is an exotic oceanic garden of unique, vitamin & mineral rich seaweeds against the back drop of the Pacific Northwest rainforest. Bring your rubber boots and learn about the health benefits of these beautiful ancient plants. Come explore the seaweed garden!
Meet Diane at noon in the parking lot of Quimper Park, Whiffin Spit, in Sooke. Don't be late, tides don't wait! Click Here for Directions from Victoria
Learn about Seaflora (video)
---
Check back often for more events!
---
Check back often for new events in a community near you, or keep up to date on events by following us on Facebook, Twitter, and Instagram. These events take place on the traditional, ancestral, and unceded territories of the Coast Salish peoples.