Georgia Strait Alliance organizes, hosts, and participates in dozens of events throughout the region each year. These events are a great chance to connect with the community, letting you know more about who we are and what we do, while raising awareness about the issues we care so deeply about. Plus, we have a lot of fun at the same time!
Come out for a fun day of exploration, education and adventure at Water's Edge Day, and be inspired and motivated at the Vancouver Festival of Ocean Films. And that's just the start!
---
Friday, September 20, 2019
Georgia Strait Alliance & Lighthouse Brewing Company present an evening of song, community, art, and conversation at in Victoria. Come by and learn more about our efforts to defend our wild Pacific salmon.
From 5:00-8:00 pm, the outdoor patio at Lighthouse Brewing Co. will be transformed into a mini-celebration in honor of all things salmon. Chill out to the ethereal sounds of Irth, pick up some art from Owl & Bear Studio in support of wildlife conservation, take a brewery tour, and discover more about Georgia Strait Alliance's Safe Salmon campaign.
The first brewery tour is at 5:30 pm
Music and presentations start at 6:00 pm
Tickets are $20 and include a drink from Lighthouse, food, music, and good times! Limited spots available – get your tickets today!
This is a 19+ event.
---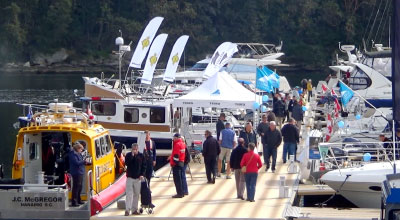 September 19 to 22, 2019
Stop by our Georgia Strait Alliance booth and say hello! We will be handing out our Guide to Green Boating and talking to boaters about how to minimize their impact on our oceans, including the new whale watching rules. Boaters can also discover if their favourite marinas and boating facilities are certified for environmental best practices by our Clean Marine BC program. We hope to see you there!
---
October 19, 2019 
Georgia Strait Alliance is thrilled to present Me Love BINGO! TRICK & TREAT Episode. Part game night, part variety hour, full P-A-R-T-Y! Join the entire GSA crew and your costume-clad host, Kyle Loven, for a campy night of games, amazing prizes, sweet tunes and lots of tricks and treats at Russian Hall in Vancouver. Halloween costumes encouraged!
Doors open at 7:00 PM with Bingo starting right at 8:00 PM sharp. Russian Hall is located at 600 Campbell Avenue in Strathcona. Seating is limited so get your tickets soon – this is one party you won't want to miss!
$15 Admission gets you in the door. Bingo papers will be a separate purchase on sale at the door for $15. The bar will be open from 7:00 PM onward. There is also a silent auction with fabulous items up for grabs. Be sure to bring cash – there are no ATMs on site! Square payment available: VISA/MC and Amex. This is a 19+ event.
Event Contact: events@georgiastrait.org
BC Gaming Event License # 119875
Know your limit play within it 19+
Problem Gambling Help Line 1-888-795-6111 www.bcresponsiblegambling.ca
---
Check back often for new events in a community near you, or keep up to date on events by following us on Facebook, Twitter, and Instagram.
These events take place on the traditional, ancestral, and unceded territories of the Coast Salish peoples.