The ecologically rich waters of the Salish Sea are among the busiest shipping routes in the world – and for this reason, the region has been identified as at highest risk of a major oil spill in Canada.
Currently, around 11,000 large vessels  transit through the Salish Sea each year, bound for both US and Canadian ports. Giant oil tankers, container ships and bulk cargo carriers navigate tricky turns through Haro Strait, Boundary Pass and adjacent islands. All through these waters, naval vessels, cruise ships, fishing boats, pleasure craft and ferries compete for right-of-way with giant freighters and tankers.
Shipping traffic is set to grow dramatically in the next decade, in large part due to major fossil fuel export projects including Kinder Morgan's proposed pipeline expansion and the Pacific Gateway coal terminal at Cherry Point in Washington, as well as the coal and container terminal expansion at Delta port.
375% increase in oil spill risk in Haro Strait if all proposed projects go ahead.
Increased traffic means increased risk of an accident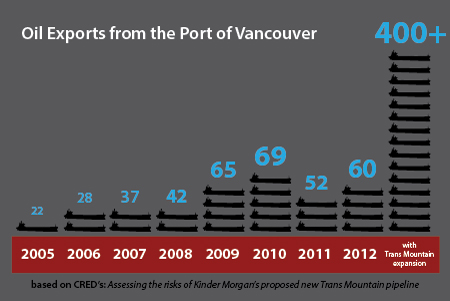 One major recent study found that if all currently proposed projects are approved, vessel traffic will increase by 21%, accident frequency by 18%, and oil spill loss by 68%.
Accidents happen
Between 1999 and 2009, more than 1,200 vessel incidents were reported on the BC Coast, 12 involving oil tankers. From 1995-2008, 14 oil spills from tankers in Washington State released 13,709 gallons of oil. During the same period, 132 near-miss incidents also took place – had these resulted in worst case disasters, the amount of oil spilled would have been 2.7 billion gallons. Learn more.
Vessel traffic causes day-to-day problems
Even in the absence of any accidents. Chronic oil pollution – oil that leaks out in bilge water, through carelessness during fuelling, or via poorly maintained engines, for example – is as damaging to marine life as the potential harm that could be caused by a large oil spill. Marine birds are especially at risk, because the water repellent coating on their feathers can be ruined by just one drop of oil. Another ongoing concern is pollution from discharges of graywater, sewage, lubricating oil, engine coolants and other contaminants. Beyond the water, increased vessel traffic is also a significant contributor to air pollution.
Marine Mammals
Marine mammals are also threatened by increasing levels of large vessel traffic. Because killer whales rely on the sounds they produce for navigation and hunting for food, the underwater noise pollution caused by giant ship engines is a major concern.  Increased traffic will cause more acoustic disturbance, and also increase the risk of accidental ship strikes of whales.
---
We are working to protect the Georgia Strait from the risks of increasing vessel traffic by pressing for a network of marine protected areas, campaigning to stop new fossil fuel export projects, and educating boaters on best practices for preventing chronic pollution from smaller vessels.
---