The biggest thrill of boating is the amazing wildlife that we encounter in and around the Salish Sea. However, as boaters we must be mindful that our watercraft can cause:
Whales to experience stress and interruptions to feeding, mating, socializing, resting, and calf nurturing.
Birds to abandon their nests and young, and can disrupt feeding or other behaviour critical to survival.
Damage to sensitive habit such as estuaries, enclosed bays and narrow channels, eelgrass and kelp beds, and shellfish areas.
The unintentional spread of aquatic invasive species (on hulls, shoes or paddles) which can disrupt the existing balance of ecosystems and out-compete native species.
For more tips on how to minimize our disruption while boating, browse our Guide to Green Boating.
---
Southern resident killer whales
These orcas are an endangered species. In March 2021, the population numbered 75 individuals – a number that includes three new calves that have been born in the last few months.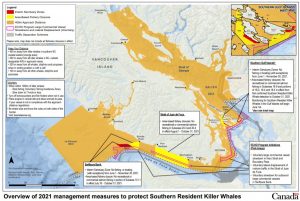 In southern BC coastal waters from Campbell River to Ucluelet (the orange areas on the map), you must keep 400 metres away from all killer whales (with some exceptions) year-round in effect until May 31, 2022.
In all other areas of Canadian Pacific waters:
It is mandatory to be 200 metres away from all killer whales, except when in the 400 metre approach area of southern BC coastal waters between Campbell River and just north of Ucluelet (as noted above).
It is voluntary:
Within 1000 metres of killer whales, you are encouraged to:

Stop fishing (Voluntary Fishing Avoidance Zone).
Slow down to 7 knots or less.

Turn off echosounders and fish finders when not in use.
Place engine in neutral idle and allow animals to pass if your vessel is not in compliance with the approach distance regulations.
Be whale wise and know the rules on both sides of the border.
When in critical habitat, between June 1 to November 30, 2021:
No fishing or boating

within of Swiftsure Bank, Saturna Island and Pender Island interim sanctuary zones. There are also additional area-based fishery closures with various effective dates; always be aware of current fishing regulations when harvesting seafood.
To ensure the safety of those operating human-powered vessels, a 20-metre corridor next to shore allows kayakers and other paddlers to transit through these zones. If a killer whale is in the sanctuary at the time, paddlers must remain 400 metres away from the whales.
The Government of Canada's "Overview of 2021 management measures to protect Southern Resident Killer Whales" can be download and includes a map of all the areas and interim sanctuary zones that are referred to on this page. Additional information, including maps of interim sanctuary zones, can be found on the Government of Canada website.
Everything you need to know in is covered in our article in Pacific Yachting's June 2021 issue.
---
Be Whale Wise
Stay at least 200 metres from orcas (400 metres in southern BC coastal waters between Campbell River and just north of Ucluelet), and from all whales, dolphins, or porpoises if they are resting or with their calf.
Stay at least 100 metres from all other whales, porpoises and other marine mammals.
If you're lucky enough to get to travel with whales, always go parallel with their direction (don't cut across or stop in their path).
Avoid erratic manoeuvres, and never chase whales or other animals.
Minimize your wake and engine noise. Turn off your engine if it is safe to do so.
Turn off echo sounders.
Report observed violations or harassment of marine mammals to Fisheries and Oceans Canada at 1.800.465.4336.
---
Large Whales
There has been a resurgence in the number of humpback whales in the coastal waters around British Columbia and Washington – and these whales are very large. Their size and unpredictability increase the risk of collision and injury to whales and to boaters.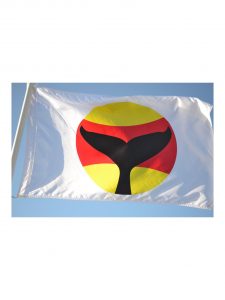 See a Blow? Go Slow!
Be on the lookout for blows and other indicators of whale presence such as the presence of birds.
Watch for vessels flying the "Whale Warning Flag", which signals that whales are near.
Increase your vigilance for whales in areas of known whale density.
Avoid positioning beside "bait balls" of small schooling fish, as indicated by aggregations of birds.
When you suspect you are in the vicinity of large whales:
Slow down. Speed should not be more than 7 knots when within 200 to 400 meters of the whale.
Give the whale space. Do not approach large whales within 200 metres.
If whales surface within 200 metres of your vessel, place engine in neutral (or ideally shut off the engine) until the whales are beyond 200 meters / yards.
If kayaking, raft up.
If you experience or witness a collision, entanglement or disturbance:
Report it. In British Columbia, call the DFO Incident Reporting Line at 1-800-465-4336 (or if out of cell range, report to Coast Guard on VHF 16). Reporting entanglement and collisions is the law.
If possible, without getting closer than 200 metres or further stressing the whale, get photos that show the injury / entanglement and allow the whale to be identified as an individual  (dorsal fin and/or tail photos).
For the safety of yourself and the whale, never attempt to disentangle the whale.
For further detail on what to do, and not to do, regarding whale entanglement, please see "How to Save a Whale".
---
Protect sensitive habitat
Avoid running motors in shallow waters, and anchor in a depth of at least 10 metres.
Minimize wake in or near sensitive habitat.
Avoid anchoring in shellfish, kelp and eelgrass beds, or use fixed moorings where possible.
Take care to avoid damaging sensitive habitat with dinghies, kayaks, or during other activities.
While it is impossible to keep all pollution out of the water, it is especially important to avoid any releases of waste, oil, sewage, soap or other toxic products around sensitive habitats.
Transport of invasive species is illegal in BC. Help prevent the spread of aquatic invasive species.
Follow BC Parks Marine Ethics, which covers sensitive habitat, boater pollution, and low impact kayak and canoe touring practices.
For the birds
Stay at least 100 metres from bird colonies.
Don't allow pets ashore where they can disturb birds or nests, which can easily kill young birds.
Marine birds often nest on the ground or in burrows on small islets, cliffs and shorelines. These nest are difficult to see, so be careful.
Learn more about protecting migratory birds with Canadian Wildlife Services.