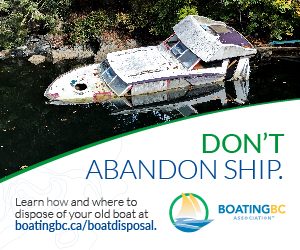 Abandoned and derelict vessels in our coastal waters pose environmental contamination and safety risks. They are also visual eyesores. Untended vessels end up adrift, washed ashore and possibly even sunk, releasing fuel and other toxins into the marine environment. This puts marine life and habitat at risk, not to mention the danger these vessels pose to mariners and beachgoers and the damage they can cause to shoreline facilities.
Do you have a retirement plan for your boat?
Good captains don't abandon their ship. So when your boat comes to the end of its useful life, make sure you do the responsible thing and retire it properly. Learn how and where to dispose of your old boat at boatingbc.ca/boatdisposal.
Recent developments:
Bill C-64 – the Wrecked, Abandoned, or Hazardous Vessels Act came into force on July 30, 2019.
Below is a brief overview of the key elements of the bill:
Strengthening vessel owner liability
The bill gives the Nairobi International Convention on the Removal of Wrecks, 2007 force of law in Canada and further extends it to all Canadian waters. This includes new obligations to report, locate, mark and remove wrecks as well as make vessel owners automatically liable for hazardous wrecks resulting from maritime casualties. Owners of large vessels (300 gross tons or larger) are required to maintain insurance or other financial security to cover the costs of wreck removal, should the wreck pose a hazard.
Addressing irresponsible vessel management
The bill prohibits vessel owners and operators to:
Abandon their unwanted vessel.
Cause their vessel to become a wreck because they fail to maintain it.
Sink, strand or ground their vessel on purpose.
Without being authorized, leave their vessel in poor condition in the same area (within a radius of three nautical miles) for more than 60 days.
Leave their vessel adrift for more than 48 hours without taking measures to secure it.
Empowering the federal government
The bill empowers the federal Government to take proactive measures to prevent, mitigate or eliminate hazards posed by vessels or wrecks including directing and holding the owner to account.
Learn more about the Wrecked, Abandoned or Hazardous Vessels Act, including how to report a problem vessel.
---
Funding is available through the federal Abandoned Boats Program for assessment and removal of problem vessels until at least March 2022.
---
The Islands Trust has recently published the leaflet: Abandoned Boats, Barges, Buoys & Docks in the Islands Trust Area – Frequently Asked Questions.
They are also undertaking an inventory of abandoned and derelict vessels in the Islands Trust area. Visit their website for more information and to report a vessel of concern.