Navigate around the strait, and click on the icons to learn more about each of our Clean Marine BC eco-certified and enrolled marinas, yacht clubs, harbour authorities and boatyards.
Certified facilities have passed their environmental best practices audit and have been assigned an anchor rating, with 5-anchors being the top score. Enrolled facilities have signed the Clean Marine BC policy and are preparing for their certification.
---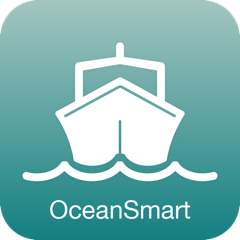 You can also find Clean Marine BC facilities while out cruising with T Buck Suzuki Environmental Foundation's OceanSmart green boating app.
---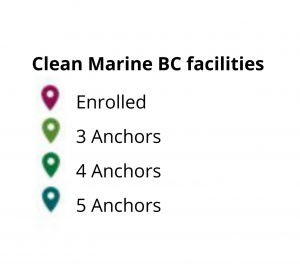 Certified Facilities
| Facility Name | Location | Anchors | Date joined | Date certified | Contact info | Website |
| --- | --- | --- | --- | --- | --- | --- |
| Burrard Yacht Club | North Vancouver | 4 | 19-Sep-19 | 14-Sep-21 | (604) 988-0817 | here |
| Cedar Grove Marina | Sidney | 3 | 24-Jul-14 | 26-May-15 | (250) 656-8771 | here |
| False Creek Harbour Authority | Vancouver | 5 | 20-Aug-08 | 20-Jan-10 | (604) 733-3625 | here |
| Greater Victoria Harbour Authority: Broughton Street Pier | Victoria | 5 | 1-Nov-09 | 24-May-12 | (250) 383-8326 | here |
| Greater Victoria Harbour Authority: Causeway Marina | Victoria | 5 | 01-Nov-09 | 24-May-12 | (250) 383-8326 | here |
| Greater Victoria Harbour Authority: Inner Harbour Lower Causeway Marina | Victoria | 5 | 01-Nov-09 | 24-May-12 | (250) 383-8326 | here |
| Greater Victoria Harbour Authority: Fisherman's Wharf | Victoria | 5 | 1-Nov-09 | 24-May-12 | (250) 383-8326 / 1-800-883-7079 | here |
| Greater Victoria Harbour Authority: Raymur Point Customs Dock | Victoria | 5 | 1-Nov-09 | 24-May-12 | (250) 383-8326 | here |
| Greater Victoria Harbour Authority: Ship Point Marina | Victoria | 5 | 1-Nov-09 | 24-May-12 | (250) 383-8326 | here |
| Greater Victoria Harbour Authority: Wharf Street Marina | Victoria | 5 | 1-Nov-09 | 24-May-12 | (250) 383-8326 | here |
| Harbour Authority of Salt Spring Island: Burgoyne Bay | Salt Spring Island | 4 | 13-Jan-22 | 25-Jan-22 | (250) 537-5711 | here |
| Harbour Authority of Salt Spring Island: Fulford Inner Harbour | Salt Spring Island | 4 | 13-Jan-22 | 25-Jan-22 | (250) 537-5711 | here |
| Harbour Authority of Salt Spring Island: Fulford Outer Harbour | Salt Spring Island | 4 | 13-Jan-22 | 25-Jan-22 | (250) 537-5711 | here |
| Harbour Authority of Salt Spring Island: Ganges Centennial Harbour | Ganges, Salt Spring Island | 4 | 13-Jan-22 | 25-Jan-22 | (250) 537-5711 | here |
| Harbour Authority of Salt Spring Island: Ganges Coast Guard Wharfhead & Breakwater Float | Ganges, Salt Spring Island | 4 | 13-Jan-22 | 25-Jan-22 | (250) 537-5711 | here |
| Harbour Authority of Salt Spring Island: Ganges Kanaka Harbour | Ganges, Salt Spring Island | 4 | 13-Jan-22 | 25-Jan-22 | (250) 537-5711 | here |
| Harbour Authority of Salt Spring Island: Musgrave Landing | Salt Spring Island | 4 | 13-Jan-22 | 25-Jan-22 | (250) 537-5711 | here |
| Harbour Authority of Salt Spring Island: Vesuvius Bay | Salt Spring Island | 4 | 13-Jan-22 | 25-Jan-22 | (250) 537-5711 | here |
| Hollyburn Sailing Club | West Vancouver | 3 | 21-Aug-21 | 14-Sep-21 | (604) 926-5744 | here |
| Kelowna Yacht Club | Kelowna | 5 | 20-Apr-18 | 10-Apr-19 | (250) 762-3310 | here |
| Ladysmith Marina | Ladysmith | 5 | | 27-Apr-22 | (250) 245-0109 | here |
| Ladysmith Maritime Society Community Marina | Ladysmith | 3 | 2-Sep-14 | 1-Jun-15 | (250) 245-0109 | here |
| Lions Gate Marine Centre | North Vancouver | 5 | 26-Apr-18 | 18-Apr-19 | (604) 985-5468 | here |
| Maple Bay Marina | Maple Bay, Vancouver Island | 5 | 27-Aug-08 | 20-May-10 | (250) 746-8482 - VHF 66A | here |
| North Saanich Marina | North Saanich | 4 | | 20-Apr-22 | (250) 656-5558 | here |
| Oak Bay Marina | Victoria | 4 | 28-Aug-19 | 11-Nov-2020 | (250) 598-3369 | here |
| Okeover Harbour Authority | Powell River (office) | 3 | 1-Jun-11 | 26-Mar-15 | (604) 483-3256 | here |
| Pedder Bay RV Resort & Marina | Victoria | 4 | 28-Aug-19 | 09-Nov-21 | (250) 478-1771 | here |
| Quayside Marina | Vancouver | 5 | 16-Jun-15 | 15-Nov-15 | (604) 681-9115 | here |
| Royal Vancouver Yacht Club Outstation: Alexandra Island | Gambier Island | 4 | 3-Mar-16 | 25-Apr-18 | Jericho Clubhouse (604) 224-1344 | here |
| Royal Vancouver Yacht Club Outstation: Cortes Bay | Cortes Island | 4 | 3-Mar-16 | 25-Apr-18 | Jericho Clubhouse (604) 224-1344 | here |
| Royal Vancouver Yacht Club Outstation: Garden Bay | Pender Harbour | 4 | 3-Mar-16 | 25-Apr-18 | Jericho Clubhouse (604) 224-1344 | here |
| Royal Vancouver Yacht Club Outstation: Scott Point | Salt Spring Island | 5 | 3-Mar-16 | 25-Apr-18 | Jericho Clubhouse (604) 224-1344 | here |
| Royal Vancouver Yacht Club Outstation: Secret Cove | Secret Cove | 5 | 3-Mar-16 | 25-Apr-18 | Jericho Clubhouse (604) 224-1344 | here |
| Royal Vancouver Yacht Club Outstation: Tugboat Island | Tugboat Island | 4 | 3-Mar-16 | 25-Apr-18 | Jericho Clubhouse (604) 224-1344 | here |
| Royal Vancouver Yacht Club Outstation: Wigwam Inn | Indian Arm | 4 | 3-Mar-16 | 25-Apr-18 | Jericho Clubhouse (604) 224-1344 | here |
| Royal Vancouver Yacht Club: Coal Harbour | Vancouver | 4 | 1-Nov-13 | 10-Sep-18 | (604) 688-4578 | here |
| Royal Vancouver Yacht Club: Jericho | Vancouver, Jericho Beach | 4 | 1-Aug-10 | 8-Aug-12 | (604) 224-1033 | here |
| Royal Victoria Yacht Club: Cadboro Bay | Victoria | 5 | 15-Apr-10 | 15-Aug-16 | (250) 592-2441 | here |
| Saltspring Island Sailing Club | Saltspring Island | 4 | 19-Nov-15 | 19-Apr-16 | (250) 537-5112 | here |
| Shelter Island Marina | Richmond | 4 | 13-Jul-09 | 20-May-10 | (604) 270-6272 | here |
| Taku Resort and Marina | Quadra Island | 4 | 25-Nov-09 | 2-Oct-10 | (250) 285-3031 | here |
| Victoria International Marina | Victoria | 5 | 1-Jul-11 | 28-May-19 | (604) 687-2206 | here |
| West Vancouver Yacht Club: Fisherman's Cove | West Vancouver | 5 | 6-Feb-15 | 14-Aug-15 | (604) 921-7575 | here |
Enrolled Facilities (not yet certified)
| Facility name | Location | Date joined | Contact info |
| --- | --- | --- | --- |
| Anglers Anchorage Marina | Brentwood Bay | 11-Jan-23 | (250) 652-3531 |
| Bird's Eye Cove Marina - Burrard Yacht Club Outstation | North Vancouver | 23-Jan-20 | (604) 988-0817 |
| Canoe Cove Marina | Sidney | 1-Sep-09 | (250) 656-5566 |
| Coal Harbour Marina | Coal Harbour, Vancouver | 1-Dec-10 | (604) 681-2628 | VHF 66A |
| Crescent Beach Marina | Surrey | 25-Jun-14 | (604) 538-9666 ‎ |
| Discovery Harbour Marina | Campbell River | 10-Jan19 | (250) 287-2614 |
| False Creek Fuels Ltd. | Vancouver | 19-Jan-17 | (604)638-0209 |
| Freshwater Marina | Campbell River | 13-Mar-19 | (250) 286-0701 |
| Gorge Harbour Marina Resort | Cortes Island | 1-Dec-09 | (250) 935-6433 | Channel 66A |
| Granville Island Boatyard | Vancouver | 1-Jun-16 | (604) 685-6924 |
| Granville Island Maritime Market & Marina | Vancouver | 1-Jun-16 | (604) 408-0100 |
| Harbour Authority of Porpoise Bay | Sechelt | 4-Jul-11 | (604) 885-1986 |
| Harbour Authority of Squamish | Squamish | 1-Nov-17 | (604) 892-3725 |
| Nootka Marine Adventures: Moutcha Bay Resort | Nootka Sound | 30-Jun-21 | 1-877-337-5464 |
| Nootka Marine Adventures: Newton Cove Resort | Nootka Sound | 30-Jun-21 | 1-877-337-5464 |
| Nootka Marine Adventures: Nootka Sound Resort | Nootka Sound | 30-Jun-21 | 1-877-337-5464 |
| Page Point Marina | Ladysmith | 1-Apr-11 | (250) 245-2312 |
| Page's Resort & Marina | Silva Bay, Gabriola Island | 1-Oct-10 | (250) 247-8931 | VHF 66A |
| Port Side Marina | Brentwood Bay | 1-Aug-10 | (250) 652-2211 |
| Royal Victoria Yacht Club - Tsehum Haven | Victoria | 15-Apr-10 | (250) 592-2441 |
| Salt Spring Marina | Saltspring Island | 9-Mar-17 | (250) 537-5810 | VHF 66A |
| Sidney Island Community Dock | Sidney Island | 16-Aug-17 | N/A |
| Spruce Harbour Marina | Vancouver | 28-Aug-17 | (604) 733-3512 |
| Squamish Yacht Club | Squamish | 10-Jan-19 | (604) 815-9533 |
| Stones Boatyard | Nanaimo | 4-Mar-15 | (250) 716-9065 |
| Tofino Resort + Marina | Tofino | 17-Mar-20 | (844) 680-4184 |
| Vancouver Marina | Richmond | 1-Apr-10 | (604) 278-9787 |
| Van Isle Marina | Sidney | 1-Oct-09 | (250) 656-1138 |
| Westport Marina | Sidney | 1-Aug-07 | (604) 939-0499 |
| White Rock Harbour Board (private facility) | White Rock | 1-Feb-11 | N/A |