You've been thinking about it for awhile.
Maybe it was after we won an order for Victoria to treat its sewage or when we won a legal victory to gain better protection for our orcas. Whatever the reason, you've wanted to support GSA for awhile because investing in the protection of our oceans is always an important thing to do, and a charitable donation to Georgia Strait Alliance is the best way for you to know our inland sea is being protected.
But we'd like to give you another reason to give – a chance to enjoy a few hours on the waters that you love so much and GSA works all year to protect.
If you make a charitable donation of any amount during the month of May, you will be entered in a draw to win:
Two tickets for a 2.5 hour harbour cruise aboard the 70′ schooner "Passing Cloud".

The cruise will depart Granville Island on June 8th at either at 9:30 am or 12:30 pm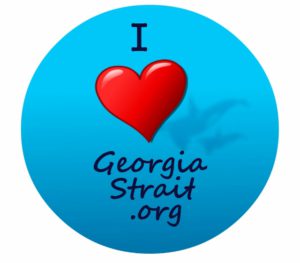 Six winners will be drawn and all donations made throughout the month of May will be eligible. We thank OuterShores Expeditions for this incredibly generous donation.
Another bonus for donating now?
Once you make a charitable donation which makes you a member of Georgia Strait Alliance, you will get a $3 off coupon to the Vancouver Festival of Ocean Films.
If you register to attend our Annual General Meeting on June 9th at 4 pm in Vancouver, you are eligible for a 50% off coupon to the Film Festival. Membership does have its privileges!
There really has never been a better time to contribute to the health of the Salish Sea – and to the organization that for nearly 23 years has protected its waters and communities so well.
Thank you so much for your support.