Georgia Strait Alliance was very pleased to be among the 32 not-for-profit organizations featured at the live launch of the Victoria Foundation's Community Knowledge Centre on February 18th. The online hub showcases the work of local charities to potential donors, other organizations, and the greater community, and links with the Victoria Foundation's Vital Signs report, which provides an annual snapshot of quality of life in Victoria.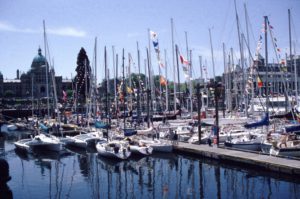 Victoria's Inner Harbour
GSA's Community Knowledge Centre profile includes an overview of the organization as well as links to videos, blogs and webpages, and illustrates how our work addresses the Environmental Sustainability issues raised in the Vital Signs report. The profile features our Clean Marine BC program, highlighting the work done in the Capital Regional District (CRD) in 2012 with the support of the Victoria Foundation.
Participation in the marina eco-certification program blossomed thanks to the grant, with the Greater Victoria Harbour Authority recently achieving eco-certification, Westport Marina becoming our first facility to renew its eco-certification, and five other marinas in the CRD now participating. This includes the Royal Victoria Yacht Club which is currently undergoing self-assessment.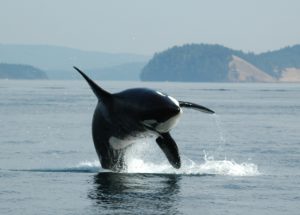 Orca breaching by Mike Grace
More facilities than ever are promoting environmental best practices to their boating patrons and the community, including using environmentally friendly products and construction, developing recycling strategies, and optimizing energy and water conservation. This translates into a more environmentally conscious boating community, improvements in shoreline health, and a cleaner marine environment.
Visitors to the Community Knowledge Centre can search for projects and organizations by name, by population served, by geographic area, and by Vital Signs issues addressed. The Victoria Foundation hopes that the online platform will inspire people to participate in projects and programs being delivered by local charities and that organizations will find ways of working together to address issues of concern. Congratulations to the Victoria Foundation for the successful launch of your Community Knowledge Centre!
Check out our profile here.
This blog post was submitted by Cheryl Onciul, Georgia Strait Alliance's Grant Coordinator.