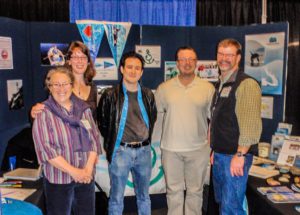 (L to R) Ruby Berry, Christianne Wilhelmson, Robert Dick,
David Macdonald and Mike Richards at our booth.
Photo by Michelle Young
What a fantastic time we had at the Vancouver International Boat Show, put on by our supporters at the BC Marine Trades Association! Attendance was strong with thousands of people enjoying the event every day, and many boaters, from rookies to sea dogs, came by our booth to chat.
Not only did we talk to recreational boaters, but we also got to meet lots of wonderful people in the boating industry too, as we continue to spread the word about Clean Marine BC, our growing marina eco-rating program.
Many people left our booth with a greater knowledge of green boating practices: from where pumpout stations are located, to alternatives to toxic bottom paints, as well as cleaning products more friendly to our marine environment, fuel efficiency tips and how to prevent small spills.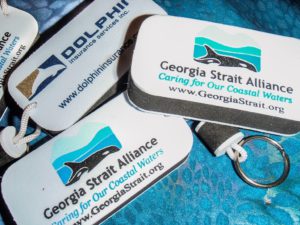 Lots of people also went away happy with a new key chain float in hand, kindly donated by Sean at Dolphin Insurance.
Also available at the boat show were our two newly designed GSA burgees. Check them out and find out how you can proudly fly yours and support our marine conservation work too!
All in all it was a very successful time 'Down at the Dock'.