It seems everyone has found quotes in the final report from the Cohen commission to back up their established position on open net cage salmon farms. The industry claims that he found no problem with the farms and people who have been concerned about the farms for years are calling for their immediate removal.
Who's right? What's the real story? What does this report really say?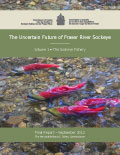 The report is quite daunting, 1100+ pages of testimony and documentation. Judge Cohen did a remarkable and thorough job of investigation and sifting of information to come up with 75 recommendations regarding a number of factors that seem to be impacting the health and well being of the Fraser River Sockeye.
From the very beginning of the Inquiry, salmon aquaculture has taken centre stage and continues to do so. British Columbians long for this issue to be resolved. We care deeply about this amazing fish and have little tolerance for threats to its well being.
Here's my summary interpretation of Judge Cohen's assessment of the part that salmon aquaculture has played in the decline of Fraser River Sockeye:
• Disease from the open net pen farms appears to be a major and potentially irreversible risk to Fraser River Sockeye.
• The data required to actually verify the degree of risk was not collected or interpreted adequately by DFO.
• This lack of transparent verifiable information is a result of DFO's conflicting mandate to promote the industry.
• Siting criteria for open net farms should include proximity to migrating Fraser River Sockeye and farms not adhering to these criteria should be removed.
• The Discovery Island area open net pen farms are in the migration path of the Fraser River Sockeye.
• Production increases in the Discovery Island must not be permitted unless risk can be proven to be minimal.
• Fraser River salmon are important enough to British Columbians that we will not accept anything more than a minimal risk to them.
• DFO has to prove that there is no more than a minimal risk in order for the farms to continue after 2020 and they can only act on this once the conflicting mandate is removed.
This is what I understand, but I suggest you look for yourself. The whole report might be daunting, but the summary is manageable and a good read and Judge Cohen made some interesting comments and observations about our care and protection of this beloved BC fish. I highly recommend you read it and tell us what you think!
For more interpretation of the Cohen recommendations see our website: http://www.georgiastrait.org/?q=node/1090 and http://www.georgiastrait.org/?q=node/56