What a busy boating season we had with our green boating and marina eco-certification program. This was my first summer as our Clean Marine BC program coordinator, and what a summer it was! We made it to boat shows on both sides of Georgia Strait – twice – to spread the word about green boating. And we also made great strides with our Clean Marine BC marinas.
Georgia and a band of pirates
Vancouver Wooden Boat Festival
Our first two boat shows were on Vancouver Island, starting at Maple Bay Marina. Maple Bay is one of our eco-rated marinas, not to mention wonderful hosts and great ambassadors of green boating. The Maple Bay Wooden Boat Festival was fun and colourful, showcasing some incredible, lovingly cared for wooden boats. Add to that some live music, and it was a lovely weekend down at the dock. Also on the Island side of the Strait, the Nanaimo Floating Boat and Marine Trade Show is just down the street from our head office, so it was nice to participate in this event and talk to folks about our marine conservation work.
On the other side of the Strait we enjoyed the Vancouver Wooden Boat Festival at Granville Island. Once again the wooden boats were gorgeous, and the owners were proud to welcome everyone aboard for a tour. There was even a replica viking ship down at the dock, some lively sea shanties, and pirates plundering the Festival. Once again the Vancouver Wooden Boat Society put on an exciting event.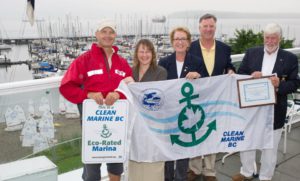 Photo courtesy Royal Vancouver Yacht Club
The final show for us this season was the Boat Show at the Creek at North Vancouver's Mosquito Creek Marina. This show is very well managed and worth attending for anyone looking to purchase a boat, or just to daydream of the possibility.
But the most exciting part of the summer for me was visiting the Royal Vancouver Yacht Club Jericho Marina to present them with their Clean Marine BC eco-certification. They received a 4 anchor rating, which they should be very proud of, as no marina in BC has yet to achieve the highest ranking of 5 anchors. However, that may soon change as we have a dozen marinas getting ready for their site verification audit, as well as a few others to be re-certified as they are reaching the end of their 3 year certification term. Check out if your marina is one of our Clean Marine BC marinas, and if not, invite them to join ~ they could have the honour of being the first 5 anchor marina!
See you down at the dock!