This winter, we teamed up with Asparagus Magazine to co-present The Story of Plastic film by Deia Schlosberg, which exposes the plastic industry's environmental, climate, justice, and health impacts on both a global and local scale. After the film, we hosted a panel discussion featuring local experts on the plastic and climate crisis.
For those of you who were unable to attend the event, we have attached a recording of the event below, we hope you find it inspiring and empowering!
The Panel:
Our panel will be moderated by Vancouver-based journalist and Asparagus contributor Francesca Fionda, and feature local experts on a range of plastic-related and climate justice issues, including: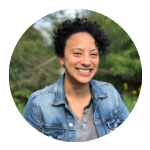 Francesca Fionda, Moderator

Francesca Fionda is a freelance investigative and data journalist. Her past stories have uncovered fake Indigenous art in the tourism industry, exposed government failures in protecting sensitive health information and revealed new, in-depth data on Canada's mobile workforce.
She's worked with investigative teams across the country including CBC, Global, CTV and the Institute of Investigative Journalism as well as the small-but-mighty; The Discourse, Attention Control Podcast and Canada's National Observer. When she isn't reporting or teaching journalism at BCIT and UBC, she's trying to find her way out of an escape room.
Francesca is a first-generation settler of Filipino and Italian ancestry. She lives, reports and teaches on the the traditional, ancestral and unceded territories of the xʷməθkʷəy̓əm (Musqueam), Sḵwx̱wú7mesh (Squamish), and Sel̓íl̓witulh (Tsleil-Waututh) Nations.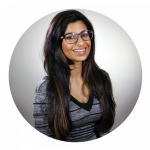 Anjali Appadurai from Sierra Club BC
Anjali is a climate justice activist with experience advocating for equity at the UN negotiations as well as at national and local levels in her home province of BC, Canada. She is currently a Climate Justice campaigner with Sierra Club BC and works to bring diverse voices into the struggle for equity and climate justice.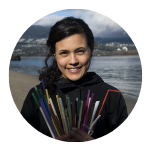 Tanya Otero from The Great Canadian Shoreline Cleanup
Tanya Otero is the Assistant Manager for the Great Canadian Shoreline Cleanup, a conservation partnership by Ocean Wise and WWF-Canada. Over her six years with the program, Tanya has supported tens of thousands of volunteers each year across the country. Tanya is dedicated to making ocean and freshwater conservation, and the program's valuable litter data, accessible to citizens and municipalities to prevent plastic pollution and empower action.
Yamila Franco from Nyoka Design Labs
As a proud Afro-Indigenous Womxn, Yamila's work is centered around empowering communities to innovate & co-create alternative solutions to solve Earth's most-pressing socio-economic and environmental challenges. With an Honours in Biology & a background in business and finances Yamila works on bringing Nyoka's vision and mission to life through their circular economy design hub. Yamila believes that research, entrepreneurship, community, and identity are interconnected and therefore leverages her skills as a way to empower fellow innovators. Earlier this year Yamila was awarded the Representation, Engagement, Participation Youth Award by HERE in Canada due to her advocacy, and anti-racism work in the community and was a recipient of both the regional and national 2020 Startup Canada Canada Export Challenge. Yamila's knowledge is built on wholistic enterprise design, circular economy, giving back to the Land, and sustainable development goals.
Ed Hawkey and Landon Hoyt from the Binners Project
Ed joined Binners' Project's staff team in 2019 and has been part of the core staff team as Head Coordinator since March of 2020. Ed worked full-time before having a stroke a few years, ago and he has been actively binning since then to supplement his income. Ed brings a wealth of knowledge as a waste-system expert, and participates in Binners' Project's waste sorting programs at sites like the Vancouver Convention Centre and the Bentall Towers.
Landon has been the Director of Binners' Project for a little over a year. He moved to Vancouver in 2011 to complete his masters in Urban Studies at Simon Fraser University. Since then, he has worked in Community Engagement with the SFU Sustainability Office and SFU Public Square, and also served as Executive Director of Hastings Crossing Business Improvement Association. Landon is passionate about bringing those with lived experience into conversations and actions toward making our city a better place for all.