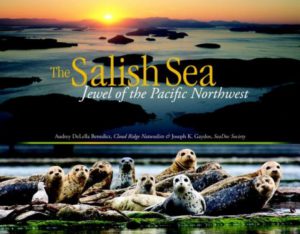 In 1991, the International Centre for Ocean Development and Ocean Institute of Canada launched a planning exercise for the future of the world's oceans.  A year later, Oceans Day was launched at the NGO Global Forum as part of the Earth Summit in Rio de Janeiro.  Ever since, communities around the world promote and celebrate World Oceans Day on June 8.
This year, we're excited to be celebrating World Oceans Day by collaborating with the Vancouver Aquarium on June 8th for a celebration of the Salish Sea. This special evening also celebrates our 25th anniversary of protecting the marine waters of the Georgia Strait. All proceeds and donations from the event will support the Georgia Strait Alliance and the Vancouver Aquarium. Click here for tickets.
When:              Monday, June 8th; Doors open at 6 pm, program starts at 6:30 pm.
Where:            Vancouver Aquarium, Stanley Park
Cost:                Members of GSA and the Aquarium: $8; Non-members: $10
This entertaining evening begins with a status report on the biodiversity of Howe Sound followed by a screening of the 30-minute documentary film, "The Unknown Sea".  The film introduces us to the recently-named Salish Sea ecosystem through the eyes of a budding marine biologist touring the sea by historic schooner.
Then, scientist and conservationist, Dr. Joe Gaydos, and his co-author Audrey Benedict, will share stories from his stunning new book, The Salish Sea. This fascinating visual journey through the Salish Sea combines Dr. Gaydos' inquiring mind, beautiful photographs, and a lively narrative of fascinating stories, all of which impart a sense of connection with this intricate marine ecosystem and the life that it sustains.
Following the program, there will be a reception with information tables, refreshments and good company. Copies of The Salish Sea will be available for sale and both authors will happily sign your purchased copies.
Make plans to attend this fun and entertaining event at the Aquarium and help us celebrate our 25th anniversary at the same time! Space is limited and tickets are selling fast, so get yours now. Looking forward to seeing you there!