Great news! This week local government leaders from across the Lower Mainland unanimously voted in favour of better local oil spill response, and a stronger voice for communities in oil spill planning.
Motion R13 – which GSA worked with the City of Vancouver to put forward – was passed at the annual conference of the Lower Mainland Local Government Association, which represents 33 municipalities and over half of BC's population. It will now go to a province-wide vote of local leaders at the annual Union of BC Municipalities convention in September – and if it passes there, the Province is required to engage and respond to the issue.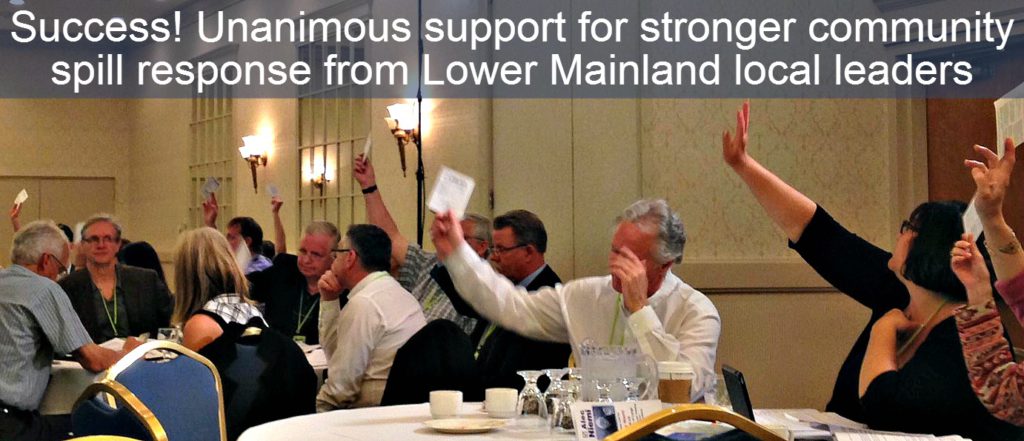 Thanks so much to each and every one of you who took the time to reach out to your Mayors and Councillors asking them to vote yes to the motion – your support made all the difference, and we hope you'll continue to get involved as we work together to ratchet this issue up the political agenda!
The theme of the conference was local emergency preparedness which, with the recent English Bay bunker oil spill fresh in everyone's mind, could not have been more timely. There were a lot of pointed questions about the handling of the spill, especially around response times and communication failures between the many agencies involved. From my conversations with Councillors, and from the workshop sessions covering a range of natural disasters and industrial accidents, two key things stood out for me:
The importance of pre-existing relationships between the players in a multi-agency response. Knowing who to call at 4 AM is good. Being able to put a face to the name, having a shared understanding of the steps and roles involved in the response, and mutual trust is even better. All of this requires formalizing relationships and protocols between the parties involved, and resources dedicated to planning and training. All too often this doesn't get prioritized (at least not until after an accident), and agencies involved – especially the smaller players – may be left flipping through a manual in the middle of the night.
Just how different the protocols for oil spill response are to other types of emergencies such as fires and flooding. In the municipal context, this means that emergency staff may be much less familiar with the protocols for oil spill response, and a one-size-fits-all emergency plan may not be adequate for involvement in an oil spill response. As a small example of the difference, during the chemical fire at Port Metro Vancouver (PMV) in March, the City of Vancouver was notified directly by PMV in about 5 minutes. During the English Bay oil spill, the official protocol resulted in notification having to pass from PMV to the Coast Guard to Emergency Management BC (Provincial) and finally to the City of Vancouver 12 hours later.
We will explore these themes in more detail in our upcoming report on local government oil spill capability, which we will be submitting as part of our evidence to the National Energy Board review of the Kinder Morgan expansion proposal at the end of May. Then we'll be hitting the road to share our findings with communities and local governments around the Georgia Strait over the summer, and working to get commitments from all levels of government to work together to strengthen community spill planning and response.
We need your help to make this happen! There are lots of ways to get involved, from contacting your local government or local newspaper to helping us organize a public meeting in your town – email alexandra@georgiastrait.org to find out more.