When I think about the
Salish Sea Ecosystem Conference
, which took place last week in Seattle, I find it ironic that a cross-border conference could make me feel so many opposing feelings. I left feeling hopeful and deeply concerned, energized and exhausted, frustrated and thrilled, ready to act and wondering how. We live in a spectacular region, and so many people love it and are ready to work to make that happen – but we need to really get our heads together to figure how we do that – and now. You know, those kinds of feelings!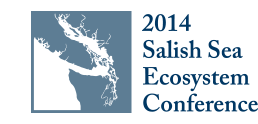 Every two years, hundreds of scientists, policy makers and members of civil society gather together to share, discuss and plan for how we will protect our shared waters of the Salish Sea. I've had the privilege of attending 6 of these conferences over the years and I was thrilled this year to be joined by 3 other GSA staff – Michelle Young (Clean Marine BC), Alexandra Woodsworth (Energy and Shipping) and Sebastian Merz (Waterfront Initiative). Together we gave 3 talks and spoke to dozens (possibly hundreds!) of people about our work, our vision and our concerns.
Here are just a few of our shared thoughts, impressions and memories about the conference we'd like to share with you:
The Pacific North West is the 'thin green line', the last frontier and ground zero for one of the most monumental environmental battles ever seen, and at a pivotal moment for all life on the planet. There is a huge volume and variety of energy proposals pushing to get out to the Asian market, and this is the worst place in the world for them to want to do this.

Simply put – we need to start thinking about this as one region, no border, when it comes to fossil fuel transport. We're still not there yet and this highlights a real gap in communication and our organizing efforts, if we want to protect the entire Salish Sea.
We need to address development proposals in a much more integrated fashion. We heard how so many proposals sound exactly the same — insert # of jobs, mitigating measures here, etc, etc. Adjustments and tweaks are really not enough given cumulative effects of all development; we need a fundamental paradigm shift.
A recurring theme – Canada lags behind the US:

Canada is lagging behind the US on dealing with derelict vessels, recreational vessel sewage discharge, and funding for pump-out facilities. When will we step up?
Washington's efforts around engaging citizens in oil spill response as compared to BC's (comparatively nothing) was incredible — they have a

whole website run by Department of Ecology for training.

Not so in BC.
There are a large number of NGOs involved in protecting Puget Sound and in doing research. We have great NGOs in BC, but our impression was that the Sound gets a lot more attention than the Strait does up here. That has to change.
Where were the Canadian federal scientists? We were so impressed by the number of interesting presentations from NOAA researchers and staff. The quality of the research and the freedom with which they were allowed to speak was a sharp contrast to Canadian federal scientists, many who were not able to attend due to travel budget limitations (or other reasons). Our impression is that science and communication is supported in Washington, a stark contrast to what is going on in Canada with the gutting of DFO and other agencies.

At a science conference, social sciences are equal partners. The social science panels were very interesting and very popular. Integrating social science approaches into an ecosystem conference seems to have struck a chord – and is necessary to creating a sustainable region.
Asking communities what they want. We saw several presentations on redevelopments and conservation which keyed in on the challenge and opportunity of engaging the community in a real way – you know, as if we really wanted to know what they thought! Phillip Levin is doing great work on how to build community support for conservation, including asking people how much development they want and how much they are willing to pay to restore ecosystems. Mike Stoner from the Port of Bellingham talked about the re-development of the waterfront and how the community wants jobs, housing and nature on the waterfront. We set the bar high when we ask people what they want – and shouldn't we always?
We have to start being able to account for our natural capital at a local level. Right now municipalities have no proper way of doing this other than, for example, accounting for your freshwater resources by accounting for your water pipes and other infrastructure. Being able to account for natural capital directly could help make conservation easier and more attractive.
We were inspired by the overall feeling of hope and all the amazing work that people are doing, all of the brilliant minds coming together. One talk was on public eco-art and science based collaboration — using art, infrastructure and science to turn public works into beautiful, clean, functional and thought provoking spaces. Going beyond mitigating measures to a whole new level, using science based solutions to turn a negative into a positive (rather than less of a negative). That's the kind of revolutionary ideas we need!
And that's just some of what we heard.
In addition to the conference itself, we were greatly pleased by the media pick-up — including stories about
at risk species
and
fossil fuel transport
. It's so important for the communities of the Salish Sea to see what their scientists and policy leaders are doing in the region and we hope this is the start of a more robust conversation.
So, here is our word cloud for the Salish Sea Ecosystem Conference: Hope – hard work – brilliant minds – thin green line – pivotal moment in history – need for change – Canada lagging behind US in laws, in leadership, in investment – more cross border thinking – government science/research in US compared to Canada, investment in science – social and natural science – asking communities what they want – accounting for natural capital – safety on paper vs safety on water.
We love where we live. We need to protect where we live. Knowing that so many feel the same way is so hopeful. I guess I'm not conflicted after all.