With the rush to develop BC's liquefied natural gas (LNG) industry, new projects seem to get announced every week. They have been mainly confined to the north coast – until now.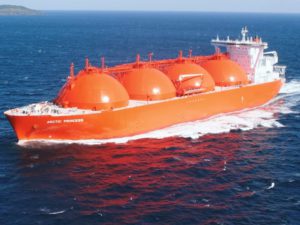 Photo: www.globalsecurity.org
Woodfibre proposes to build an LNG processing and export facility seven kilometres southwest of Squamish. If approved, the project would bring 40 LNG tankers through Howe Sound each year, carrying BC gas to global markets. An associated proposal, by FortisBC Energy, would see a 52-kilometre pipeline built from Coquitlam, across the Squamish Estuary, to bring gas to the Woodfibre plant.
We've been hearing a number of concerns from community members about the project, including:
The risks of an collision, spill or other accident in the handling and transport of a hazardous material like natural gas, particularly in the narrow confines of a fjord like Howe Sound

The day-to-day noise disturbance and other impacts of increased tanker traffic on endangered orca, humpback whales, grey whales and other marine species, many of which are only recently returning to Howe Sound following decades of environmental abuse;

Foreshore and recreational impacts in a significant tourist destination from the wake of the large LNG carriers that are proposed

The cumulative impacts of the Woodfibre facility in combination with other industrial projects proposed for the region
Residents have also been outraged about the way that government consultation has been carried out so far. The first major opportunity for public input took place over the Christmas holidays, from December 17 to January 6, while many were away from their computers and enjoying time with family – almost as if it was intended to slip past without anyone noticing. You can read comments submitted by those who were able to make the deadline here, which provides a good sample of community concerns.
Concerns about the Woodfibre proposal are part of a much wider conversation that needs to happen about the current push to hang BC's economic future on LNG. How can we develop LNG at the pace envisioned and still meet our targets for combating climate change? If supplying gas to new LNG facilities leads to an increase in fracking – with its associated water contamination, air quality and health impacts – is that something British Columbians can live with? What about pollution of the air and marine environment around the terminals themselves?
If you have thoughts on this, I'd love to hear them! Get in touch at alexandra@georgiastrait.org