Port Metro Vancouver is currently considering an application from Fraser Surrey Docks to build a coal facility at its terminal in Surrey, designed to handle coal from United States producers who are struggling to find export routes south of the border.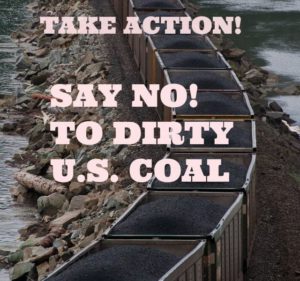 When complete, the coal terminal would be responsible for about 17 million tonnes of carbon dioxide each year – more than a quarter of BC's total annual emissions. Combined with an already approved expansion at the Neptune facilities in North Vancouver and recent upgrades at Delta's Westshore Terminal, a green light for Fraser Surrey Docks would make Metro Vancouver the biggest coal exporter in North America. Pretty hard to reconcile with the vision many of us share for Vancouver: a clean, healthy and beautiful city and a global environmental leader.
The Fraser Surrey Docks project will directly threaten the health of our communities with coal dust and diesel particulates from the coal trains and barges that will transport the coal through the Lower Mainland, and past the Sechelt Peninsula, the East coast of Vancouver Island, Denman, Hornby and Lasqueti Islands, on its way to a new coal transfer facility on Texada Island.
Together with our partners at the Wilderness Committee, we've created a handy letter-writing tool for you to use.
Please take action now
, and ask Port Metro Vancouver to say no to the Fraser Surrey Docks proposal, for the sake our climate and our communities.