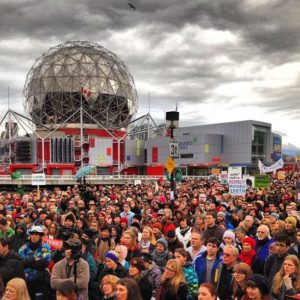 This fall, Karen Jørgensen has joined the GSA team as a volunteer and we're so happy to have her on board. From time to time, she'll be sharing her experiences of her work with us and our coast as a guest blogger.
********
On Saturday November 16th, I took part in a massive rally at Science World in Vancouver as part of the nationwide "Defend Our Climate, Defend Our Communities" day of action.
I had a great time working at GSA's table with Jessie, who like me is also a volunteer at Georgia Strait Alliance. Both of us were happily surprised to see how busy we were during the rally due to the amount of people that came by to chat with us. We had great conversations with people about GSA and asked them to
sign a letter to BCs Premier Christy Clark
requesting her to stand up for BC and take back our power to say no to the proposal to build twin the Kinder Morgan pipeline!
In more than 130 communities across Canada thousands of people came together to show that there is a growing movement to stop pipelines, reckless tar sands expansion and runaway climate change. I was really glad to see not only the number of people and organizations at the event but also the diversity in the people who attended. Children, couples, university students and seniors all gathered to express their support and concerns! Despite the cold weather, thousands of people showed up at the Science World rally to ensure they had a say in this matter.
One image from the event is still on my mind today. I saw a little girl of about five years of age holding her mom's hand with one hand and a homemade sign in the other with a picture of a dead whale and the words "I want my favorite animal to have a future. Say no to a dumb pipeline". I found this message very powerful, as it came straight from the heart of a child. She will grow up having to live with the devastation that both the Enbridge and Kinder Morgan proposal would bring if an oil spill occurred and the ever increasing threat of climate disruption. One single oil spill would not only risk killing this little girl's favourite animal, but would also damage the whole ecosystem in the Georgia Strait region and therefore our economy as well. You can read more
here
about what is at risk if the expansion plans of oil and gas industry become a reality.