This fall, Karen Jørgensen has joined the GSA team as a volunteer and we're so happy to have her on board. From time to time, she'll be sharing her experiences of her work with us and our coast as a guest blogger.

***
I had such a lovely evening taking part in Georgia Strait Alliance's successful fundraising event last Thursday at the Robert Bateman Centre Gallery, in Victoria. Meeting the former environment minister John Cashore, and Doug White who is the chief of the Snuneymuxw First Nation, were just some of the highlights of the evening.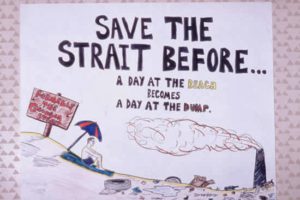 I found it both inspiring and rewarding to have the opportunity to chat with people who have the same interests and concerns as I do about our precious coastline. Talking with these people gave me a sense of hope and encouragement.
Combining the inspirational speeches and chats together with the samples of Denman Island Chocolates, wine and sustainable seafood contributed to an even better evening. In addition to being an enjoyable evening, the event was a fundraiser with all the money raised going towards GSA's ongoing work in the region.
The Robert Bateman centre gallery certainly was an excellent location for this fundraiser. Each piece of Bateman's interpretations of nature and wildlife had an individual story to tell. This made for a perfect surrounding for the event as it reminded me how unique and incredible wildlife really is.
For those of you who were not able to join us this time, you can still support our efforts by making a
charitable donation
. I really do hope to see you at one of our future events!