Tacking on extra experience to your resume, networking and meeting people from diverse backgrounds or simply boosting your karma and self-worth, all are common reasons we sign up to volunteer. A quick surf of the internet illuminates thousands of ways to provide your time free of charge – you could be cleaning houses, fundraising for charities, or perhaps advocating for a cleaner and healthier environment. And as our busy lives leave us little time to idle, you want to make sure the organization you volunteer with is not only accommodating of your schedule, but provides you with meaningful work and reasonable responsibilities!
To get some perspective on volunteering (particularly with Georgia Strait Alliance) I chatted with our awesome volunteer Jessie Russell. She shared her thoughts on the structure of our organization, and why our programs and campaigns motivate her as a volunteer. Take it as a testimonial for how your volunteer journey could begin with GSA!
Jessie began volunteering with us this summer, using her past experience in public outreach to help Mikaela and I host GSA displays at events around the Georgia Strait. I had the pleasure of working with her at our Paddlefest Vancouver display, and was very impressed with her energy and knowledge of GSA programs and environmental issues. Clearly she is comfortable engaging the public in such discussions, and public outreach is the correct area of GSA for her placement!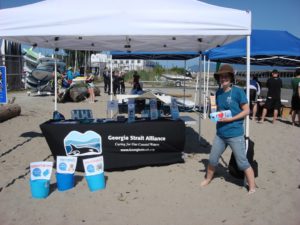 GSA volunteer Jessie models our Stewards of the Strait Pledge Card
Photo by M. Spencer
When asked about volunteering, Jessie noted that she loves meeting and speaking with all sorts of people, and that she "especially enjoys speaking with people who have different opinions than [her] and then having a conversation in which [they] can find common ground." And as a biology student, she is pleased that many of our staff and board members have scientific backgrounds, and work to maintain a solution-based organization.
I then asked Jessie if she had a volunteering experience or moment that resonated with her, and this is what she described:
"One of the moments of this summer that keeps coming back to me happened at Langley National Aboriginal Day. A boy, about 11 years old, came up to me and asked me what the Georgia Strait Alliance was about and what we were doing. When I explained about the Save the Salish Sea campaign, he nodded knowingly. He had, as it turned out, done a school project on the expansion of the Kinder Morgan pipeline. He had chosen that topic specifically. When I asked him how he felt about a second Kinder Morgan pipeline-he looked at the ground in silence for a while. Then he looked up as if to speak as he shook his head back and forth, finally he said, "it's bad, it's very bad." He couldn't quite get the words out to describe how much he did not want this project. I think often of this boy and the passion he had to protect the rivers and the ocean."
Like Jessie, we have all had critical discussions with those around us, be it a friend, family member, or kindly passer-by. However, they often end in a "So what?" or "Well what can WE actually do about it?" By volunteering with GSA, you have the opportunity to host such critical conversations, and offer practical solutions our organization supports. And of course you can always check our website for the latest
Urgent Actions
, such as sharing your opinion about increasing tanker traffic and pipeline expansion plans in our ecologically rich Georgia Strait region.
If you would like to begin your volunteer journey with GSA, we welcome your help! With
Current Volunteer Opportunities
ranging from joining our Clean Marine BC green boating and marine eco-rating team, to community events, shoreline cleanups, office assistance and more, there is bound to be a position right for you.
We look forward to hearing from you!
~Megan