Enjoying a lovely sunset last Tuesday at Parksville Summer by the Sea Market, Outreach Coordinator Mikaela and I were struck with a brainwave –what if we crafted a selection of Toxic Smart cleaning products, and collected natural soaps and scrubs from market vendors to create prize packs? We drifted from vendor to vendor, and were amazed by their overwhelming generosity –we collected no less than three natural bars of soap, lavender essence oil and bath salts in just ten minutes of asking!
But what is "Toxic Smart", and why is Georgia Strait Alliance so keen to promote these products? I'll share some of our reasoning:
Our Toxic Smart program promotes simple and often cost-effective ways citizens can reduce their use of toxic chemicals, benefitting your family and the environment. We do this by providing education on chemicals commonly found in your home or garden products (check out this Toxic Smart Glossary to put the chemicals on your product labels to the test) and providing simple, natural alternatives to commercial products.
Our online education booklets,
What Does Clean Really Mean?
What's Your Poison?
and
Solving the Solvent Problem
share more information on common chemicals and natural solutions for your home, garden and workshop -worth the read!
It seems obvious that natural fresheners and cleaners are a safer choice than many commercial products, but what does exposure to common chemicals do to our families and environment? Take ammonia, hydrochloric and sulphuric acids for example. These chemicals are often found in commercial glass or drain cleaners, yet exposure to their fumes puts us at risk for eye, lung, nose or throat irritation, not to mention chemical burns, headaches and nausea (gross!).
One can only imagine what happens to our marine environments when they come in contact with such chemicals via sewage into nearby lakes, rivers and streams. Phosphates, for instance, found in many commercial laundry and dishwashing detergents can cause a spiral of negative effects on fish and aquatic life. By creating a build-up of nutrients in the environment, phosphates induce excessive growth of algae ("algae blooms"), which in turn depletes oxygen and well… doesn't end well for aquatic organisms.
Now that I've got your brain whirring about what's really stored in all those bottles and tubes tucked under your kitchen sink, how about I share a couple simple recipes for you to try on those stubborn sticky stains, and dusty summer air filling your living room (our heat wave along the Georgia Strait is still going strong!) I'll even test them out to save you the trouble.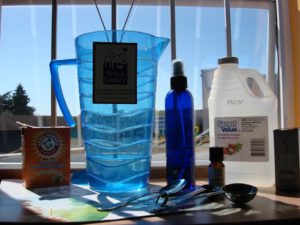 Tools and ingredients for Toxic Smart Recipes
(Photo by M. Spencer)
Next time you're traipsing down your local grocery store cleaner aisle, ask yourself: do I really need this specialized cleaning product? Often the answer is no –a well-crafted All Purpose Cleaner can do the job on a variety of surfaces, like counters, floors, walls, tiles and woodwork. I tried the baking soda and water mixture (below) on all five surfaces, and was very pleased with the squeaky clean result! And I can hear all the aquatic life downstream from our Nanaimo office splashing their approval 🙂
*
Dissolve 60ml baking soda in 1 litre of hot water, mix and use.
*
Or try mixing 125ml pure soap (such as Dr. Bronner's Castile Soap) with 4 litres of hot water. To help cut grease, add 60ml reconstituted or strained, freshly squeezed lemon juice.
Note: I'm not one for the smell of vinegar, but you may also try mixing equal parts vinegar and salt to get those surfaces sparkling.
2) Natural Glass Cleaner
As I mentioned above, ammonia is a very toxic chemical for both humans and our environments. Unfortunately, many commercial glass cleaners mix ammonia with water, dye it a "cleaner" colour like blue or green, and can sell their product without a 'Poison' warning label! To avoid using ammonia in your homes, try this recipe for sparkling glass.
* Add 65ml vinegar OR 15ml lemon juice to a one litre spray bottle, then fill with warm water. Polish with newspaper (this helps avoid streaks).
Note: I used a terry cloth to test polish some glass mirrors and windows, and was also pleased with the result (just wipe gently).
Try out these recipes and let us know what you think! Do they clean as well as commercial cleaners, or perhaps free your conscious knowing that your cleaning practices are healthier for your home and the environment? As always, you can converse with us on Twitter, Facebook, or submit comments and videos to our Communities Atlas.
If you'd like to enter to WIN some of our Toxic Smart products (packaged so nicely in GSA labelled spray and cream bottles) and a lovely assortment of local, natural bath and body products you can either…
*
Submit a name entry to our Name our Mermaid Contest. Outreach Coordinator Mikaela and I will be attending many more events and festivalsaround the Georgia Strait, so stop by our table and enter or submit your name by e-mail to megan@georgiastrait.org. We'll automatically consider you for the basket!
*
Sign one or more of our Stewards of the Strait Pledges, in person or online. We'll automatically consider you for an in person entry, but if you sign our online Pledge please send a separate e-mail to megan@georgiastrait.org, with the Subject Line "SOS: Toxic Smart Entry." One entry per person please!