As a campaigner who spends most of my time speaking out about the risks of shipping tar sands oil through the Georgia Strait, I found myself in a somewhat unusual position last week: standing in front of a roomful of tanker owners and port managers, talking about a future beyond oil.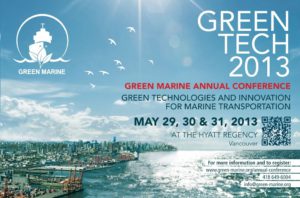 Photo: Green Marine / Port Metro Vancouver
Although it wasn't exactly an easy sell, the crowd was more receptive than you might think. I was presenting at the annual conference of
Green Marine
, an industry-led program under which ports, terminals and shipowners attempt to measure and reduce the environmental impact of their operations in areas such as greenhouse gas emissions, waste management and oil spill prevention.
In media debates about increasing tanker traffic off BC's coast, the shipping industry often takes the position that they are unfairly targeted. The sentiment is: 'we don't extract the oil or make the laws that govern it – we just carry it'. In my presentation, I suggested that this position wasn't going to fly anymore in BC – not when what the ships are carrying is oil, which is culturally and politically, and not just environmentally, toxic. The shipping industry is now under the microscope every day, not just when there is an incident or a spill. At least at the moment in BC, the shipping industry's reputation is bound up with the reputation of the oil industry's; and that reputation is not being helped by failing to acknowledge that ship owners and ports are more than innocent bystanders in the life cycle of oil.
So while we need to acknowledge that tanker safety and oil spill prevention have come a long way since the days of the Exxon Valdez, and that many members of Green Marine are working hard to reduce the direct impacts of their operations, true environmental leadership means taking into account the impacts of the products you carry. There is no doubt that the task of measuring and assessing these impacts is technically complex, and that mitigating them raises big questions about the future of the shipping industry in a carbon constrained world. They are certainly questions that are beyond the scope of a program like Green Marine in its current format – but the climate challenge demands that they be asked.
It also demands that we work together across traditional divides, which is why Georgia Strait Alliance has decided to become a supporter of Green Marine. Although we will encourage the program to raise the bar in how it defines sustainability and environmental leadership, we also need to acknowledge that many of its members are making genuine efforts to reduce their environmental footprint, and working with them to push the envelope is more effective than washing our hands of an initiative just because it doesn't yet go far enough. There are always tensions when strange bedfellows come together – but these can be productive, and building unusual alliances to find solutions is what Georgia Strait Alliance is all about.