Hello everyone! Megan and Mikaela here, and we're this summer's GSA Outreach Coordinators. If you see a Georgia Strait Alliance booth at an event on Vancouver Island or in the Lower Mainland over the next few months, we'll be manning it. So come say Hi!
Our summer got off to a great start this past weekend when we helped celebrate World Ocean's Day in both Victoria and Surrey. Needless to say, we learned a lot during these initiation events, and many adventures were had. Want to hear what our experience was like? Read on…
Bright and early Saturday morning, we dropped by the office, picked up our gear, and drove from Nanaimo to Victoria in Megan's little RAV4.We were warmly welcomed at the event location in front of the Victoria Maritime Museum in Bastion Square, and our slot was already set up. Surprisingly, our first attempt at setting up the booth not only went without a hitch and in a timely fashion, but it looked great! Unfortunately, we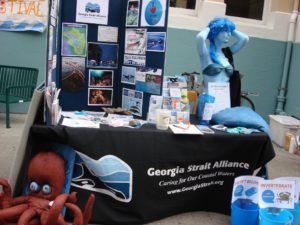 Courtesy of M. Spencer
showed up in shorts and light sweaters expecting the sunshine to warm us up; but someone forgot to tell the clouds, and they hung around until an hour before the event ended. Add the lack of sunshine to the permanent Victoria Harbour wind, and suffice it to say we were rather chilly most of the day (Note to self: bring clothes for ALL weather conditions!). Other than this inconvenience, the event was lots of fun! We had a few great conversations and were able to get some information out to others, focusing primarily on closed containment salmon farming and the proposed Kinder Morgan pipeline expansion, and our newly designed bean-bag toss game was a hit with the kids.
We also unveiled our new promotional event of the summer: the Name our Mermaid Contest! We have decided that "Georgia," our 20-year-old mermaid mascot, needs a newer, more modern name. So for the rest of the summer we'll be accepting ideas at all our events. At the end of the summer, we'll put the names to a vote in our office, and whoever entered the winning name will win a fantastic prize! If you think you have a great name that would suit our mermaid, just drop by our table at any upcoming events and fill out an entry form. Or you're welcome to contact us by email. Please provide your full name, address, and phone number along with your entry.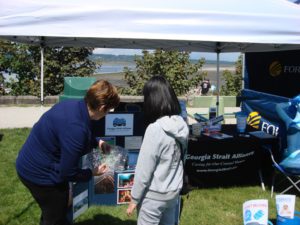 Stickers: the best prize around! M. Spencer
Our Sunday event was a little further away from home. We caught the first ferry out in the morning, drove across Vancouver, Richmond, and Surrey in Mikaela's Jeep (it holds the tent in the trunk and not beside the passenger's face, very convenient), and finally reached our venue at Blackie Spit in Surrey. Now this is where the learning started. We tried to set up the tent, and it was missing a rather vital bolt (Note to self: ALWAYS bring spare parts!) so we couldn't use it. Luckily, another vendor brought an extra tent, so we set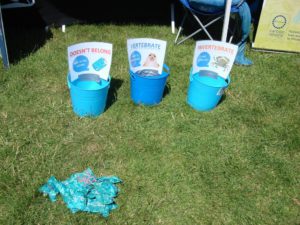 Our new bean-bag game! M. Spencer
it up instead… Right on time. No sooner was it up than the skies opened and a torrential downpour drenched anyone silly enough to stay out in it (Note to self: pack an umbrella!). The squall quickly passed, we got the rest of the booth set up, and we were underway just as the sunshine started to show its face. Then the wind picked up. First our display board went flying (Note to self: keep an eye on wind direction!), then a random gust sent our whole TENT flying (Note to self: tie down your tent!). It's okay, we caught it. Soon we had everything held down and secured, and we were able to fully enjoy this great event. There were thousands of people over the course of the day, most of them families with young children, so our bean-bag toss was in use almost constantly. In addition to this, we had some great talks about the various conservation efforts the GSA is working on right now, and got a bunch of name suggestions for our mermaid.
We're also intensely focusing on our Stewards of the Strait program this summer. Are you an active diver? Do you love to kayak along the Sunshine coast? Or maybe you just like walking along the beach and enjoying nature's beauty? We'll be collecting pledges all summer by people like you who want to do their own little part to help preserve our amazing Georgia Strait. All you need to do is read what the pledge entitles, and if you think you can follow those guidelines, you can sign the pledge. You can choose just one pledge, or all eight! The GSA currently has pledges for the following recreational activities:
– Exploring the Shoreline – Boating – Kayaking – Diving – Fishing
– Bird Watching – Whale and Wildlife Watching – Waterfront Living
I think we had a really successful first weekend, stay tuned for next weekend's summary: we're heading to the BC Shellfish Festival in Comox on Saturday, and back to Vancouver for DriveFest 2013 on Sunday. Hope to see you there! You can also check out our events page for a little more information about events we'll be attending in the coming weeks. We'll try to keep it updated!
– Mikaela