I'm a word person, always have been. Give me a pen (or a laptop) and stories and ideas start to flow. Give me a paint brush or a video camera and, well, the results can be what people call "interesting"!
So it's not surprising that in my work as an environmental advocate and educator, when it comes to connecting and touching people, words have always been my stock and trade. Whether spoken or written, I put words together to create the stories that I hope will touch people.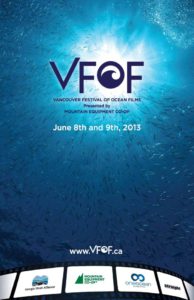 That is why I'm so blow over by the ability of documentary filmmakers to tell their stories by bringing together images, sound and words, and to evoke through those stories laughter, tears and appreciation for something we might never of have seen in real life.
My work at the
Georgia Strait Alliance
tells you I have a love for oceans, so that shows why I'm so excited to once again be attending the
Vancouver Festival of Ocean Films
. Looking back on last year, I still remember laughing to tears through "
Paddle to Seattle: Journey Through the Inside Passage" but still being touched by the real world dangers this duo faced in their travels. I felt the eerie familiarity of a fight to stop a pipeline in Ireland in "The Pipe", and lost myself in the wild exuberance of surfers trying to ride one of the world's most dangerous waves in "The Ultimate Wave Tahiti".
This year the films look to be as interesting and diverse as ever. The ones I'm particularly looking forward to seeing are: "Stand" a journey into the Great Bear Rainforest, a place I've never been; "The Island President" the story of political leadership in light of climate change for a small island community; and "The Big Fix" a damning look at the human causes behind the Deepwater Horizon disaster in the Gulf of Mexico.
The Vancouver Festival of Ocean Films is telling entertaining and important stories with pictures, and if you've ever lost yourself in a shoreline walk, paddled the intertidal in your kayak, or just love living near the waters that are so important to our quality of life in this region, I look forward to seeing you at this year's Festival.
Tickets are on sale
for all 3 screenings this weekend – check out what's playing and lose yourself in a great story!