I had the remarkable experience a couple of weeks ago of witnessing the last stages of construction of a home-grown, land-based, recirculating closed containment salmon farm. The facility is being built to prove the economic good sense of growing salmon in a way that doesn't threaten the survival of wild salmon.
Namgis Nation is now growing Atlantic salmon in their state of the art facility just outside Port McNeill on Vancouver Island.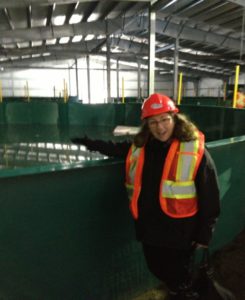 On March 18, 2013, 23,000 smolts were delivered to the facility, and will now be in quarantine for 4 months. They are doing well and growing, and are on their own "biofilter" which houses bacteria to clean the water. Since this is a land-based, closed containment "recirculating aquaculture system", all environmental conditions can be controlled and more than 98% of the water is recycled. The small amount of outflow that is produced is fastidiously treated so that there is no chance of transfer of disease or pathogens between the wild and farmed fish. See our Campaign News
It's a deliciously ambitious project that promises to answer the remaining questions about economic and financial sustainability of current closed containment technology. I say current because this is an actively innovative industry.
It takes a long time to develop a new technology, especially when the industry and government fight so vehemently against it. It's been a remarkable journey to get to this point in aquaculture history. One of my pivotal memories is from 2006, at a meeting held by DFO to assess the potential of closed containment technology for growing salmon. Industry and government representatives scoffed at the possibility, declaring it a doomed enterprise from the beginning. I watched as the entrepreneurs, engineers and inventors in the room became increasingly eager to take up the challenge. There's nothing quite so inspiring to an inventor as saying, 'It can't be done.'
We're now seeing the results of that challenge being met in the number of closed containment salmon farms in operation or development around the world. The impetus to push for closed containment technology has always been to solve the problems of the dangers posed by the open net cage salmon farms to the wild marine environment. We're not there yet. The open net farms are still in the ocean, but we're getting a lot closer and the argument that there isn't a viable economic alternative is just no longer credible. For more information about the problems with open net cage salmon farms, see Salmon Farming