Almost 13 years ago I was working as an environmental planner in Saanich when I got the call from then GSA Executive Director, Laurie MacBride, to offer me the opportunity to launch the fledgling Green Boating program and take it to the next level. For me, with a love of the ocean and boating, and a desire to be based on Gabriola Island this was indeed opportune. It was a chance to do something positive and proactive to help maintain and improve the health of our local part of the ocean, namely the Strait of Georgia and its adjoining waters.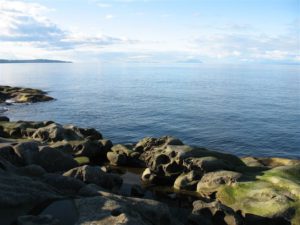 In the years since I started with GSA I have been extremely fortunate to work with some amazing people and together we have accomplished much. We have worked hard though enormous challenges and all the while the focus on the health of our waters has been maintained.
All the staff have been and are incredible people who are totally dedicated to the mission of the organization. We've had some amazing boards over the years and it has been a privilege to work with them. Our volunteers continue to amaze and inspire me. My colleagues beyond GSA have also been an inspiration and it's great to know we are not alone in caring for this part of the world. To all, I thank you for everything you have done and are continuing to do. I also thank GSA for the confidence they have had it me and the tremendous support they have given me over the years.
While the essence of GSA's work is positive and proactive it is a bit of a shame that we have to spend valuable energy and resources reacting to the threats that continue to come at the Strait. While I know this work is necessary I have been (and continue to be) more excited by the projects and programs that inspire us all. I will take that positiveness with me on my new adventures and always thank GSA for it.
As for what I'll be up to; I'll be taking some time for myself but will be on the lookout for another position while I develop a facilitation & education consultancy on the side (www.mikerichardsfacilitation.com). All while enjoying our new acreage in the islands and sailing around them. I may even do some contract work with GSA if the opportunity arises.
But for now, goodbye and thanks so much for 13 amazingly rewarding years!