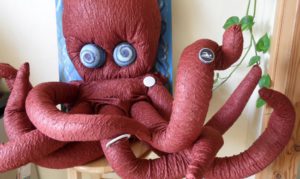 If you haven't had the pleasure of encountering the new addition to the Georgia Strait Communities Atlas team yet, I officially introduce you to Megapus (that crazy looking critter to the right). This multi-talented octopus, cleverly constructed by our summer career placement students, (Deanna McGillivray and Isabelle Gendron-Lemieux) attracted many visitors to GSA's information tables at events over the summer. Megapus not only gave us more opportunities to talk with people about the Georgia Strait Alliance, but having been crafted to record video, also provided a unique opportunity for people to 'talk to the octopus' and share what they value or are concerned about in the Georgia Strait…I mean, how could you say no to that face?
This is what people had to 'say to the octopus' at the, Powell River Open Air Market, Car Free Day and Vancouver Folk Festival;
It has always been a goal of the Communities Atlas project to engage the public to participate in the creation of a rich and informative Local Knowledge layer. The Local Knowledge Atlas layer, a collection of submitted content that captures everything from observations of wildlife to concerns about shoreline development, helps us to understand what's important to citizens both in specific communities and region-wide. With the launch of the new Communities Atlas we have been exploring ways to increase public involvement and inspire people's creativity in helping to capture how we experience life on the Georgia Strait and how we envision a healthy future for our coastal communities.
What would you say to the octopus? Sign up to the Communities Atlas to submit your videos and pictures. We are currently looking, in particular, for stories about success stories of current marine protection/conservation projects and initiatives around Georgia Strait, but of course, whatever you would like to share is most welcome!