I'm feeling pretty impressed with our local politicians these days. What an amazingly diverse array of dedicated caring people have been chosen by the people of
British Columbia
to represent them where it matters most – at the local level. I was fortunate to meet a number of them at The Union of BC Municipalities (UBCM) convention, which happens every year. This is when politicians and staff from the varied and scattered municipalities and regional governments around the province come together to consider issues which can and should be dealt with province-wide. They provide a very powerful message to the provincial government.
The UBCM is hosted by different communities around the province, and this year was
Vancouver Island
's turn. On the shore of Georgia Strait, in the lovely city of Victoria, hundreds gathered with colleagues, representatives of the provincial government and other groups (like GSA!) to share stories and challenges and create plans for a better future.

GSA was there, connecting with old friends and making new, delighting in the interest and concern for the health of our beautiful marine environment, and building the relationships that help us be a voice for the Strait.
This year, we educated local leaders about the Southern Strait of Georgia National Marine Conservation Area (NMCA), among other issues, commiserated about the gutting of environmental protection at the federal level, and celebrated the passing of the resolution regarding oil tankers on our coast, which calls on the province to 'use whatever legislative and administrative means that are available to stop the expansion of oil tanker traffic through BC coastal waters.'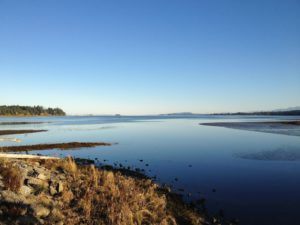 Georgia Strait protected from tanker increase by local politicians
 It was a narrow victory, but as we're learning from the press, the more people who understand the threats of increased tanker traffic, the more people who are opposed. It's simply a matter of education and letting our friends and neighbours know that the risks are aren't worth the rewards and more investment in fossil fuel infrastructure is simply the wrong way to go. (See our handy tanker info kit)
I was also excited to note that several resolutions regarding issues that have been of concern to GSA, were carried by large margins. These included recommendations to maintain staffing levels of the
Coast Guard
, holding shippers of dangerous cargo responsible before
a spill
takes place and a 'call upon the Government of Canada to develop revised Fisheries Act
policies and regulations in collaboration with all stakeholders, specifically including local governments through the UBCM and Federation of Canadian Municipalities, to ensure changes address municipal concerns while strengthening environmental protection for our watercourses.'
The full text of all resolutions presented at the UBCM annual convention can be seen at:
UBCM
. It was a pleasure to spend time in the company of so many people from around the province who care so deeply about a healthy, sustainable future.