Monday I joined thousands of people on the lawn of the Provincial Legislature as part of the Defend our Coast movement to 'stop the pipelines'.
Coastal indigenous people arrived in an impressive procession with a clear message that any pipeline and any increase in tankers on the coast is unacceptable.
It was invigorating to see so many people willing to travel from around the province, give up their day, stand in the rain and the cold for hours in hopes of sending a message that the people do not want the land and water of BC exposed to the risk that increasing oil pipelines and tankers would present.


I watched for hours wondering what exactly it is that we need to do in order for our governments to hear and understand what we feel is essential for the future of our world and our children.
Hundreds of people sat with a banner of equivalent length to one supertanker proposed for the coast, which is by the way equal to the length of three quarters of the legislature lawn – sobering when you see how it essentially doesn't look like it would fit anywhere easily. Some sat for hours, indicating willingness to put their bodies on the line – to engage in the time-honoured tradition of civil disobedience – when all other avenues of opposition to unacceptable political action have been exhausted and there is nothing else to be done.
Have we done all we can? Have we written all the letters, made all the calls we possibly could? Have we bombarded the media with our thoughts and concerns? Have we pushed for alternate energy sources? Do we use them whenever we can? Have we exhausted our fertile imaginations?

Two days later people gathered in the hundreds in over 60 communities around the province to send a message to the Provincial Government that pipelines through BC are not to be negotiated.
We sang along with the Raging Grannies and shouted our determination to protect our coast and call on our government to do the right thing and protect what we love and what will sustain us for generations.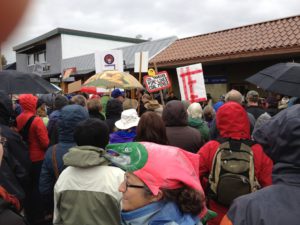 Ruby as salmon at Courtenay rally

There is a ground swell of passionate resistance to pipeline and tanker development. Growing numbers of people of all political persuasions are finding ways to voice their concern. There is still time to convince our governments that enough of us feel strongly enough. Let your politicians know that stopping the pipelines and protecting our waters from increased tanker traffic would turn them into heroes. Let them know that we support the courage it takes to stand up for a healthy future for the planet, our economy, and our children.
To find your MLA (provincial) go to: