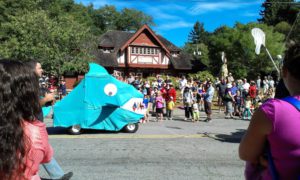 A giant shark cruises through Snug Cove
during the BowFest parade!
We are sad to say that this is our final blog of the season. After a summer of exciting outreach and coastal adventures, we are trading our GSA t-shirts for thinking caps, and heading back to our respective studies.
Our last weekend of events was a busy one. Deanna had the pleasure of attending
BowFest
, Bowen Island's community festival on Saturday. The theme of this year's event was "prehistoric", and Bowen Islanders did not disappoint. The parade which opens the festival every year was packed with polka-dotted Wooly Mammoths, giant prehistoric birds and fish, roaring T-Rexes, and rock star cave-people. The festival itself was lively as well! Island residents and visitors sampled delicious food, enjoyed great live music, and browsed the booths of local artisans and community groups. The kids had a great time enjoying the carnival rides, checking out the live reptile exhibit, and urging on their favorite slugs in the slug races. Deanna had several conversations with well informed, passionate individuals and spread the word about our
Communities Atlas Project
. As per usual, the
Trans-Mountain pipeline and oil tankers
were the hot topics of the day, though many individuals were interested in knowing more about the health of Howe Sound.
All in all, it was one of the most enjoyable events of the summer, and as such, a big thank you is owed to Ellen White and the rest of the BowFest team for welcoming GSA to the Festival!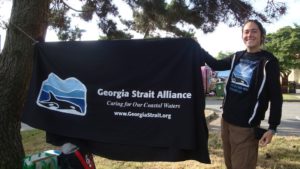 Isabelle adds some GSA decor to
the Kitsilano Farmers Market.
On Sunday, Isabelle grabbed a bag of brochures, a petition against the oil tanker increase in the Strait, and a GSA tablecloth, and headed to
Kitsilano's Farmers Market
. Her small booth was set right in the center of the Market between two rows of tents filled with fresh produce and other local goods. With the sun shining, the market was busy from start to end.
Many market goers holding bags filled with luscious fruits from the Okanagan Valley took the time to stop by Isabelle's booth to sign the petition and discuss issues such as the
oil tanker increase
and
salmon farming
in the Strait of Georgia.
On Tuesday, we rounded off our summer outreach tour by returning to Parksville's
Summer by the Sea Market
for a second time. It was the market's final night of the summer, and though ominous clouds loomed, Oceansiders and visitors alike came out in droves to indulge in one last local treat, and check out the artisan craft displays.
We would like to thank everyone who came to talk to us and buy raffle tickets at the market, and at all of our events this summer! We both have truly enjoyed our summer of outreach with GSA. We managed to attend 25 different events in Georgia Strait of all shapes and sizes, from Victoria to Powell River. Thank you to our
GSA buddies
for their warm welcome and helping hands! We hope that their passion will continue to be contagious as our coastal waters need such heroes!
Bonne chance and stay wild!