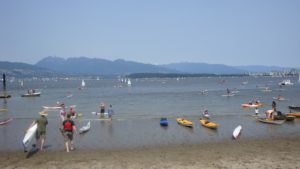 Paddling action on the beach near Jericho Sailing Centre
Photo credit: Deanna McGillivray
After a couple of days spent in the office in Nanaimo, Deanna and I were eager to get out for more outreach action. I think that the more you get involved in discussing environmental issues with the public, the more passionate you get about the causes. On Saturday July 7 we thus navigated across the Strait to attend the Vancouver venue of
MEC Paddlefest
. The weather was perfect and the venue's location was great! Our booth was placed along the path to Jericho Beach in the midst of other environmental non-profits fighting for great causes, such as
Fraser Riverkeeper
,
CPAWS
and
Shark Truth
. Even though most of the paddling action was taking place on the beach, a lot of the passersby and paddlers, curious to know what the colorful tents were about, stopped by our booth. They took the time to share their concerns about
oil tankers in the Strait
and
open-net salmon farming
and to learn more about how they can get involved in our
Community Atlas project
. Once again we would like to thank Adam Hoogeveen for organizing another great MEC event.
The next day Deanna and I eagerly headed for yet another of the island's fine markets, the new
South Cowichan farmers market
. Sunday's venue was very special as it was the grand opening of the Market. Located right next to the highway after Whippletree Junction, and offering ample parking space for cars and bicycles alike, the venue was well chosen, possibly by someone with a strong marketing brain. The weather was excellent (it was one of those burning hot days that makes any excuse to get out of your hot motorized box a good one!) and the turn out was great. Market goers considered us as one of the vendors and most of them made a point to stop by our booth and find out what we were about. Deanna and I had some lively discussions with well informed South Cowichan residents and sampled some excellent baked goods and local produce. A big thank you to the market manager Keith Lefevre for welcoming us to the market and for working hard to build
local food
systems. Good luck with your market, we wish you every success!
All in all it was a superbe weekend full of sun and engaging discussions. Thank you to all of the outreach staff, market vendors and people who attended our weekend events for supporting our summer
raffle
. We will be back in Vancouver this weekend for the
Folk Festival
in Jericho Park. Come listen to some good tunes and participate in our free draw!