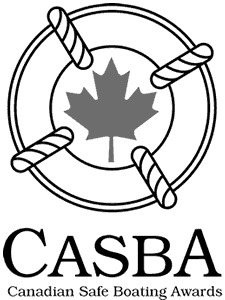 In a gala presentation last night in Toronto, Georgia Strait Alliance's Mike Richards accepted the Canadian Safe Boating Award (CASBA) for the Best Environmental Campaign, 2001. Richards coordinates the Green Boating Program for the BC-based Georgia Strait Alliance (GSA), a non-profit organization that works to protect the marine environment of the Strait of Georgia (the waters between Vancouver Island and the British Columbia mainland).
The annual CASBA awards were started in 1999 to honour those boaters and members of the boating community who have made very real contributions toward improving the safety and quality of the world in which the sport of boating is enjoyed.
GSA's year 2000 Green Boating program included production and distribution of close to 15,000 copies of its Guide to Green Boating, a 16-page booklet on environmental practices for recreational boaters. The Guide was written by GSA's Rupert Gale and illustrated with humorous cartoons by his sister, Dee Gale. As well, GSA worked in partnership with several agencies to produce and develop accompanying eye-catching signs on "green" boat maintenance and repair, and distributed these to many marinas and boatyards in the region. The group continues to give presentations to yacht clubs and other boating groups and talking up green boating with individual boaters throughout the Georgia Strait region in order to provide information and motivation to boaters to keep coastal waters healthy. Although the program has had a regional focus it has drawn international attention.
"A lot of dedicated people have worked to make this program successful," Richards said at the presentation. "I have to thank all my co-workers and volunteers, our sponsors, and the many marine businesses, boating organizations and government agencies that have been supportive of this program from the outset. I would also like to thank Norm Dyck from the Council of BC Yacht Clubs who nominated us for this Award."
"Although boaters only contribute a small portion of the pollution that enters Georgia Strait, explained Richards, "it tends to accumulate in sensitive foreshore areas, particularly in bays, inlets and estuaries. By taking some simple and inexpensive measures this damage can be significantly reduced. It's in all our interest to keep our coastal waters healthy so we can enjoy boating for many years to come."
Richards and the rest of the crew from the Georgia Strait Alliance will be back on the Strait this spring after a stint at the Vancouver International Boat Show (Feb. 7 to 11), where they will have a display and copies of the Guide to Green Boating. For more information about the Green Boating Program, phone (250) 753-3459 or contact Mike Richards.