Clean Marine BC started off the new year spectacularly. I just knew it was going to be a great trip to the Lower Mainland when we were blessed by a huge pod of Pacific White-sided Dolphins on the ferry ride from Nanaimo…and things only got better from there. Not only did we have a wonderful time connecting with boating enthusiasts at the Vancouver International Boat Show, but we also achieved a huge milestone for our Clean Marine BC marina eco-rating program.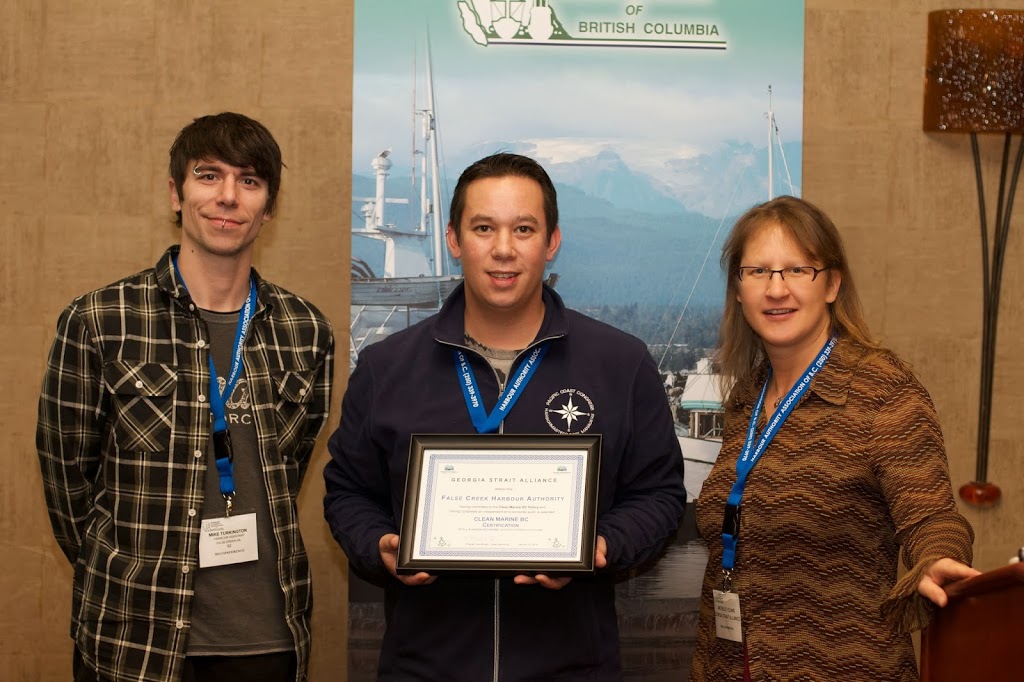 Michelle Young, CMBC Program Coordinator, with
Mike Turkington and Mike Loy (centre) of FCHA
Photo by Joel Baziuk
False Creek Harbour Authority was Clean Marine BC eco-rated at four out of five anchors when they first achieved their certification. The voluntary program for marinas, yacht clubs, and boat yards is all about continual improvement in environmental best practices, and we are happy to say that False Creek has taken that to heart. Upon re-certification, their Fisherman's Wharf became the first facility in BC to achieve the coveted top 5-anchor rating! We were so happy to honour their achievement at the recent Harbour Authority Association of BC Conference.
The Vancouver International Boat Show was another huge success this year, with so many boaters happy to take home their own copy of our Guide to Green Boating. Lots of folks stopped by to talk about the lack of vessel sewage pumpout facilities along our coast, alternatives to toxic bottom paints, and other green boating issues and tips.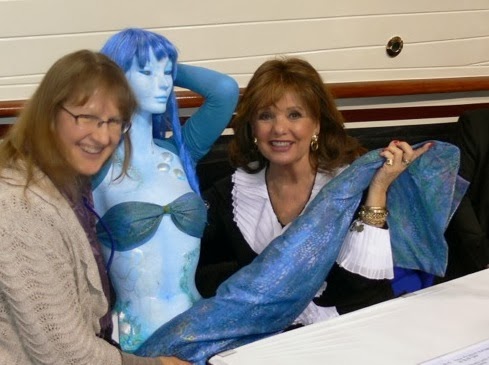 Our mermaid Georgia and Michelle meeting Dawn Wells
Photo by Vivian Sorensen
It was also nice to connect with our Clean Marine BC marinas in attendance at the boat show; certified marinas Shelter Island and the Royal Vancouver Yacht Club – Jericho, as well as a few of our enrolled marinas and some new ones interested in hopping on board.
Not only that, but Dawn Wells (Mary Ann of Gilligan's Island fame) was a sweetheart to meet, and she now knows a little bit about the great marine conservation work that we do here at Georgia Strait Alliance. Touring the restored SS Minnow was quite a treat, and it is a relief to know that the iconic vessel of my childhood did not suffer the fate of becoming a derelict vessel.
Needless to say, the new year has started with a splash. We've been having a great time "down at the dock" – we hope you and your marina will hop on board.