As I came out of a meeting today, I realized this mind-boggling fact – I've been involved in discussions, consultations and campaigns around
wastewater treatment
in the region for over 11 years. I don't remember seeing 'advanced wastewater treatment advocate' on my guidance councillor's list of careers when I was in high school, but somehow I've ended up in this place where my knowledge of treatment technologies and processes is pretty deep – terrifyingly deep!
Having been involved in public and community consultations in Metro Vancouver, the Capital Regional District of Victoria, the Regional District of Nanaimo, along with national level consultations, I could go on ad nauseum about biosolids, total suspended solids and fecal coliform levels – but who really wants to read about that over dinner?!
What I will say is that in my experience the best processes that I've been involved with are the ones where staff, politicians and those giving of their time on advisory committees all work together to create a vision for what wastewater treatment can bring to a community. Not only is the conversation about deadlines, technology and cost, but about how this investment will make our waters cleaner, communities healthier and even produce resources that can provide a revenue stream. I tip my hat to Metro Vancouver for their willingness to make their liquid resource management plan (yes, resource, not waste!) better by working with and listening to the
Reference Panel
that had been created to offer advice. Thanks to the willingness of senior staff to put in the time with us, the plan is better – and that's good for all of us. Other regions could learn from this process and I hope they do.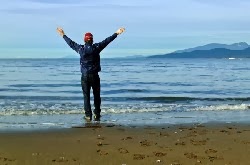 Photo: Bryan Nordley
But there is one thing I would wish for all regional districts when it comes to building large infrastructure projects, and that is – trust your citizens. Too often I see plans presented not built around a vision of benefits to a region or community, but starting with fear about the cost. The public are not fools but if you don't provide information for why you want to invest in better wastewater treatment – and that you feel forced to by national regulations is not a vision – a self-fulfilling prophecy of opposition will occur. No one likes their taxes to go up, but most of us can be inspired to invest our hard earned money if we see that the project will, in the case of wastewater treatment, protect our coastal waters and wildlife and our communities.
We saw this in Vancouver when the community itself chose the plan for the Public Library, even though it was going to cost more than other plans. Now we have a building that is iconic and provides a wonderful gathering place for its citizens.
So regional governments — trust your citizens and help lead us towards a better future. I know personally, it's one I would be more than happy to build with you.