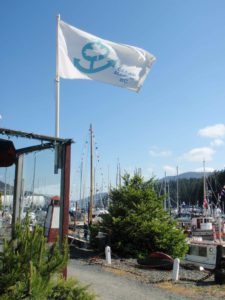 Clean Marine BC eco-certification flag
flying at Maple Bay Marina
Photo: Michelle Young
Maple Bay Marina's Wooden Boat Festival took place last weekend at one of GSA's seven Clean Marine BC eco-rated marinas. The first thing I saw as I arrived was thousands of juvenile salmon in the bay; what a fitting way to start the festival. It seemed a testament to the fact that we can coexist in harmony with nature if we respect the marine environment and allow ecosystems to thrive as we strive to minimize our impact. That is exactly what Clean Marine BC is all about!
I arrived early so I had a wander around the docks. Few things make me happier than the ocean and boats, so it was a great pleasure to see the many well cared for wooden boats entered into the festival. Meeting Carol and Dave Messier of Maple Bay Marina was also special, as they are fantastic hosts and make every effort to employ environmental best practices at their marina, and to share green boating information with their guests.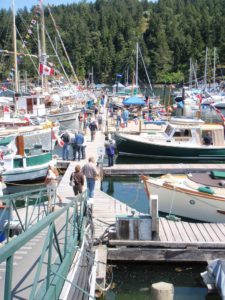 Wooden Boats at Maple Bay Marina
Photo: Michelle Young
Many people who stopped by our booth were interested in learning about the
sewage vessel regulations
that came into effect earlier in May. Some expressed frustration that the government is targeting recreational boaters while the capital of our province, Victoria, continues to pump raw sewage into the ocean. We couldn't agree more about Victoria, which will have treatment within about six years, however each individual can make a difference and it is critical as we utilize our waters that we take the greatest care to minimize any harm we might cause. Others were concerned that they would like to comply with the regulations, however there are not enough
pump out facilities
available, making it an extreme inconvenience, or even worse, requiring them to burn extra fuel to make it to one of the few pump outs.
The loophole of being allowed to pump within 3 miles of shore, or within 1 mile in certain circumstances, is a necessary step towards full protection of our waters, as it will help protect near-shore habitat and the coves and bays that boaters love to anchor in. However it is critical that the necessary infrastructure be put in place to allow boaters to pump out without having to go too far out of our way while doing our part for the environment we love so much.