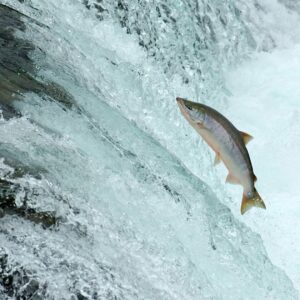 Today, the federal Minister of Fisheries, Oceans and the Canadian Coast Guard Joyce Murray, announced a two-year renewal of licences for marine finfish aquaculture facilities in B.C., outside of the Discovery Islands, which were due to expire on June 30, 2022.
In response, Georgia Strait Alliance's Biodiversity Campaigner Lucero González Ruiz, said:
"Wild salmon are in a state of emergency – and their health and wellbeing are running out of time. Minister Murray's decision means that wild salmon will continue to be exposed to harmful pathogens and disease produced by open-net pen fish farms for another two years.
"At the same time, the length of the licence renewals sends a clear message to industry: their time is almost up; the time to transition is now.
"At GSA, we hope that this decision – and all future decisions about fish farming in B.C. – are grounded in free, prior and informed consent by First Nations in whose territories these farms have been operating and where any future land-based closed-containment systems may be located.
"We appreciate the Minister's commitment today to a final transition plan, expected in spring 2023, to outline the removal of open-net pen fish farms from waters off the coast of B.C. However, lacking in today's announcement was the reaffirmation that the nets will be physically and entirely out of the waters by 2025, as pledged. 
"Finally, it's critical that hybrid technologies (those that use open-net pens as alternative options and do not fully remove the pollution, disease and waste from the marine environment) not be used or considered in any transition plans."
Fish farms in the Discovery Islands
In April 2022, a federal judge set aside a December 2020 decision to phase out open-net fish farming in Discovery Islands by June 2022. The judge outlined the proper approach the current Minister should follow to make such a decision to remove open-net salmon farms from this area, based on procedural fairness and a requirement that the Minister further explain the reasons for her decision.
Georgia Strait Alliance's Biodiversity Campaigner Lucero González Ruiz said: "It is deeply troubling that the Federal Court has put a hold on an environmental decision, informed by social and traditional knowledge of several Indigenous nations in the Discovery Islands, their rights and title, as well as the science that shows wild Pacific salmon are in a deep state of emergency.
"Wild salmon are being given a much better chance at recovery by the Minister's decision to not renew Discovery Island licences during the consultation process leading up to a final decision on these farms in January 2023."

– 30 –