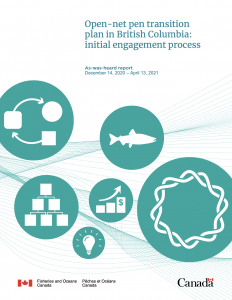 Today, the Department of Fisheries and Oceans (DFO) released a summary of its engagement findings regarding the federal government's commitment to transition open-net pen fish farms in waters off the coast of B.C. to closed-containment facilities on land by 2025.
In response, the Executive Director of Georgia Strait Alliance Christianne Wilhelmson, says:
"We appreciate that DFO has shared their engagement findings publicly, providing transparency and important insight into the impacts, concerns and hopes that various stakeholders have. Within this summary report, there are some alarming omissions and additions, including no reaffirmation that the nets will actually be out of the waters by 2025, and the inclusion of in-water semi closed-containment systems, in-water marine closed containment systems, and hybrid technologies that use open-net pens as alternative options – none of which fully remove the pollution, disease and waste from the marine environment.
"The most significant absence in the report is perhaps that there is no clarity on where we are with regards to developing a responsible transition plan that:
Confirms the nets will be out of coastal waters by 2025,

Includes regular reporting, and

Provides a development of a plan to support the communities affected with new economic opportunities, including closed containment aquaculture jobs and a rebounding wild salmon economy.
"Wild salmon are struggling and the science about the negative impact of open-net pen fish farms is not debatable. Fish farms introduce pathogens and waste into the marine environment of migrating wild salmon, including Chinook—the main food source for endangered Southern Resident orcas.
"Salmon are in a state of emergency and decisive action must be taken now to restore and protect their population.
"It's time to act to restore wild salmon."
– 30 –
Resources
Open-net pen transition plan in British Columbia: initial engagement process – As-Was-Heard Summary Report.