Monthly Giving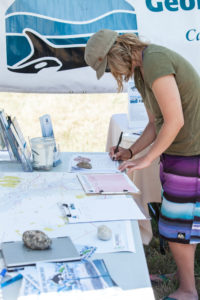 Regular giving is one of the best ways to show your commitment to the protection of Georgia Strait. You decide how much to give and this is deducted automatically from your chequing account or credit card each month. Monthly donations help reduce our administrative costs, and provide reliable income – invaluable in planning, making strategic decisions, and leveraging matching funds.
To become a monthly donor, you can:
sign up online
call 250-753-3459
print this form, fill in the details needed for monthly donations, and mail it to our Nanaimo office
Leaders' Circle
Our Leaders' Circle recognizes the generosity and commitment of donors who give at a level of $1,000 or more annually, with members encouraged to pledge their support for a period of three years. Members of the Circle receive personal communications from GSA's Executive Director and Board Members several times a year and are invited to attend small private gatherings focused on topics of interest. The official launch of our Leaders' Circle has been delayed due to COVID-19 restrictions, but if you are interested in learning how you can join this group of dedicated supporters, please email cheryl@georgiastrait.org.
By Telephone
Call 250-753-3459 and make a donation using a credit card or by debit from your bank account.
By Mail
Please mail a cheque payable to "Georgia Strait Alliance" to:
Georgia Strait Alliance
208-477 Wallace Street
Nanaimo,  BC  V9R 5B7
If possible, please print this form and complete it to provide us with your address and contact information if sending credit card information or a cheque by mail.
By Using PayPal
Give a tax-deductible gift to Georgia Strait Alliance through PayPal:
To Receive a US Tax Receipt
Donations of Securities
Gifting publicly-traded securities to Georgia Strait Alliance can be very advantageous from a tax perspective. Please talk to your financial advisor to help you decide if a donation of stocks is right for you.
Gift Memberships
Providing gift memberships to friends and family is a great way to share your love of our coastal waters with those closest to you.
You'll help them to feel part of a great common cause, while giving much-needed support to Georgia Strait Alliance.
You can give a gift membership by making a charitable donation of any size.  When you give a gift membership, we will send them an acknowledgement of your gift as well as our Annual Report and our newsletter, Strait Talk.
Corporate Matching
Many Canadian companies match charitable gifts that their employees and retirees make each year. All you need to do is request a matching gift form from your employer and send it completed and signed to  Georgia Strait Alliance along with your gift.