Hola everyone! My name is Lucero González Ruiz and I am GSA's new biodiversity campaigner! I am very excited to be jumping into this role and I hope you will follow me through this journey. Let me tell you a little bit about myself and my plans and ambitions for this role!
I was born in Mexico City and moved to Canada six years ago to attend university at SFU. I graduated in 2020 with a major in Biological Sciences with an ecology, evolution and conservation focus. 
So, why did I decide to become a campaigner? In Mexico, we campaign for our rights and for our lives all the time. When I was in high school, I started experiencing what that was like, and that was when social justice really marked my life.
On September 26th 2014, 43 indigenous students disappeared in the hands of government officials. I joined my fellow schoolmates in a national movement to ask the government for answers. I joined the movement because it hurt, because it was an injustice, but also, because I was afraid, we all were. We were afraid we were next. It still makes my eyes tear up thinking about that feeling. To this day, we still do not know where these students are. That year, I came to Canada and decided I had to continue the fight. That is why a couple of talented and passionate friends and I formed an organization called "Ayotzi 68" to continue to bring awareness and international attention to their disappearance. Little did I know this was helping me grow my campaigning roots!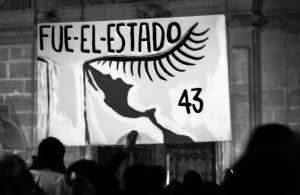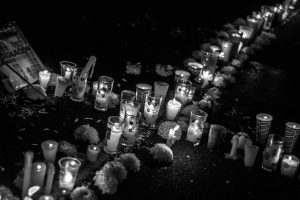 In 2014 I was part of several protests to ask the government for answers and justice for the 43 missing students in Mexico. 
Latin-American countries are full of these types of movements. We grow up thinking it is normal that we have to fight all our lives, but it is not. I grew up seeing it from my perspective as a Mexican, but unfortunately, all people of colour, indigenous folks and people from marginalized communities know that feeling. This is why I hope to bring my life experiences and passion for social and environmental justice to this role as biodiversity campaigner, and to all my future campaigns.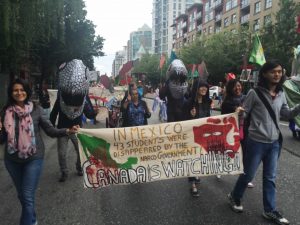 In 2016 Ayotzi 68 joined the wild salmon caravan in Vancouver, BC.
Being a woman of colour with indigenous roots means that I often do not feel represented or even included in the environmental movement. Unfortunately, I know first-hand the results of not including indigenous and vulnerable communities in decision-making and environmental efforts. My grandmother was an Otomi indigenous woman, her untold story is painful and hard to write about, mostly due to colonialism and racism. Her voice was never listened to, and her knowledge was never shared. My roots as a biologist were built thanks to the connection to the land that my grandmother and father inspired in me, and for me is very powerful. As part of my work, I seek to listen and learn from all types of knowledge and voices. I believe First Nations communities have to be at the front lines of this movement. For it to work we need a new perspective of how we do things and we need to listen, truly listen. Environmental justice goes hand in hand with social justice; we must do the work and stop asking other people to do it for us.
I am excited about embarking on this new journey with GSA. As I find my voice as a campaigner, I believe that being a young woman of colour will allow me to see things differently and bring a new perspective to the table.  I, as many others, feel overwhelmed by all the environmental problems we face, it is hard to keep going at times and sometimes it feels like we are not doing enough. However, I believe that is what the support of a community is for and I hope I can hear from you and your community! Please feel free to reach out if you want to chat about our biodiversity campaigns or anything that concerns you or your community. I look forward to hearing from you and working together towards a just future!