At their annual convention in Victoria last week, local government leaders from across the province took the opportunity to speak out against Kinder Morgan.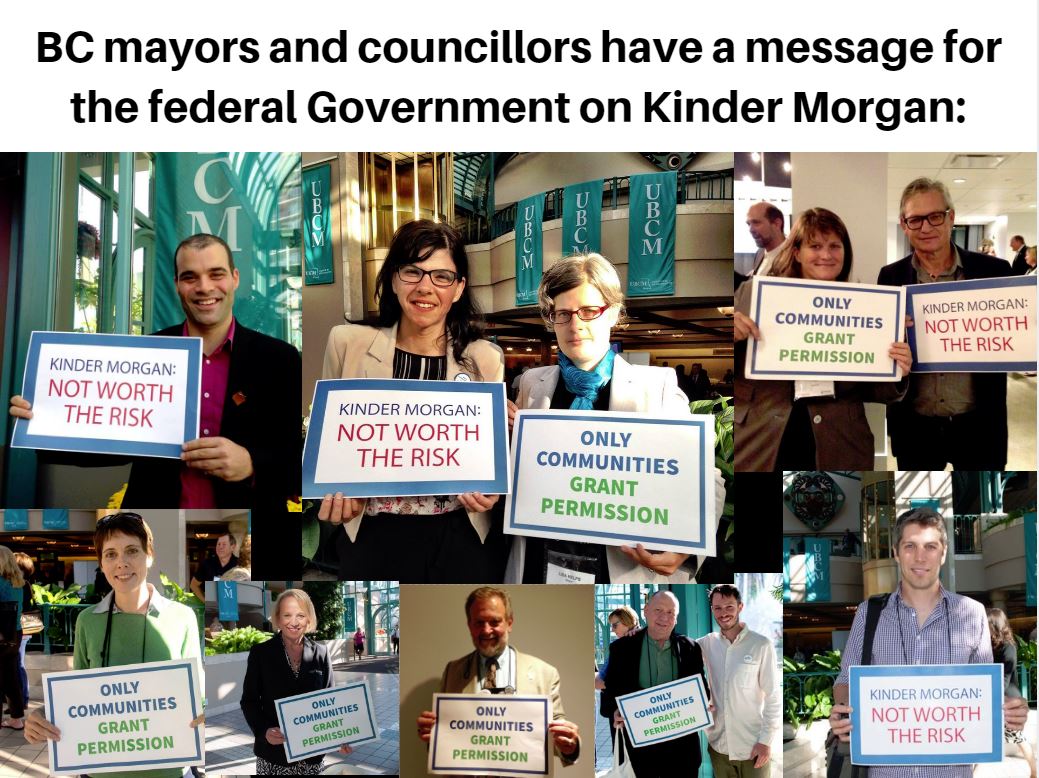 Lower Mainland and Greater Victoria communities have been staunchly opposed to the Kinder Morgan project for years. But last week, they were joined by mayors and councillors from places like Kamloops, Lytton, Grand Forks, Gold River and Whistler. Some were concerned about the pipeline project, others about the fatally flawed review process; but all agreed that Kinder Morgan could not go forward in December.
The Ministerial Panel appointed by the federal government to gather additional input on the Kinder Morgan project did not address the gaps in the previous NEB review, and was discredited by a string of failures of its own. The federal government is therefore basing its impending decision on inadequate information, gathered by two discredited review processes.
The week culminated with nine mayors, alongside the chief of the Tsartlip First Nation, holding a press conference from the convention centre, calling on the Prime Minister to reject Kinder Morgan.
With the recent suspension of the NEB hearings on the Energy East pipeline due to conflict of interest issues, the mayors pointed out that Kinder Morgan was reviewed under the same NEB leadership, and believe that both pipeline projects should be treated in the same way. They believe that neither project can go forward until the NEB is overhauled, and a fair and rigorous public hearing process is in place.
In all, 40 mayors, councillors and other local government leaders sent a message that Kinder Morgan is not worth the risk, reminding Trudeau of his now infamous election promise: "governments grant permits, but only communities can grant permission."
Click here to see the faces of local government opposition in BC.
Please share this photo album to thank our local leaders for standing up for the people and places they represent, and show the federal government the wall of opposition to Kinder Morgan that stands firm in BC.