Maintaining our boats can be a messy business, and we need to take care to contain any pollutants that can escape into the air, ground and water. Ideally we would carry out all maintenance in a boatyard with responsible practices such as using waste containment systems, drop sheets and shrouds.
If dockside work cannot be avoided, there are a number of precautions we can take to prevent toxins from entering the water. One solution that might work for you is a product called Railstar, which we have invited Scott to tell you about:
Guest blog by Scott Van Allen, Director of Railstar Marine:
The Railstar "source control / mess management" solution is a best management practice which allows yacht crews, contractors, and refit yards the opportunity to take responsibility for subsequent discharge inevitably resulting from a variety of regularly scheduled maintenance projects aboard. We designed this more specifically for the sanding, stripping, and the delivery of product to varnished cap & toe rails, however often hear of proponents utilizing it for other projects involving hull or waterline painting, upkeep or grinding for example. Where small topside projects over the water cannot be avoided, or larger ones on the hard, this industry specific Canadian design should put a smile on your face and for the right reason…it's the right thing to do and it works!
These light weight modular assembly components are reusable, strong, they float, and may prove to have as many other useful functions pertaining to refit mess management planning as the imagination permits. As a professional yacht finisher I have also re-developed my technique to dare -to-deliver thicker, more credible coatings. No more pre-occupation where the overflow or drips would go, no more mess into the water nor onto the paint, decks etc! This is huge.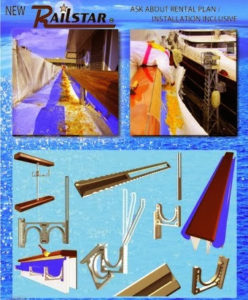 It would be presumptuous of anyone to speculate on just how much intentional discharge could be prevented from entering the waterways on a global perspective. However we believe that it would be enough to warrant this system being widely available for yachts wishing to do the right thing. On one refit alone, day 1 we observed approximately 200 dry liters of hazmat discharge from entering the water and then being disposed of accordingly in an appropriate recycle facility. One Day / One Boat (2005).
Hopefully there will be more eco conscientious yachts and refit facilities intent on qualifying their commitment to the environment through pro-active examples set for our present and future generation. Railstar does set an example worth following.
At your service:
Scotty
Director, Railstar Marine