What North Vancouver's MacKay creek can teach us about urban shorelines
What gets two dozen environmentalists, scientists and planners to cram into a school bus on a cold and rainy Saturday morning? The prospect of exploring the latest urban stream restorations in the city, of course!
You would be forgiven for considering this field trip a decidedly geeky exercise, but as one of the people in the bus, it turned out to be a remarkable experience. It was the second leg of a Forum organized by Evergreen that brought together a wide range of people working on urban watershed issues, from storm water management to "daylighting" lost streams in the city.
The trip brought to mind the fascinating natural processes that are going on in the middle of a bustling city, sometimes in little green oases that are boxed in between roads, buildings and industrial lands. And it showcased how, amidst all the urban and industrial activity, we can restore some of the ecosystems we thought we lost if we bring the right people and the right resources together.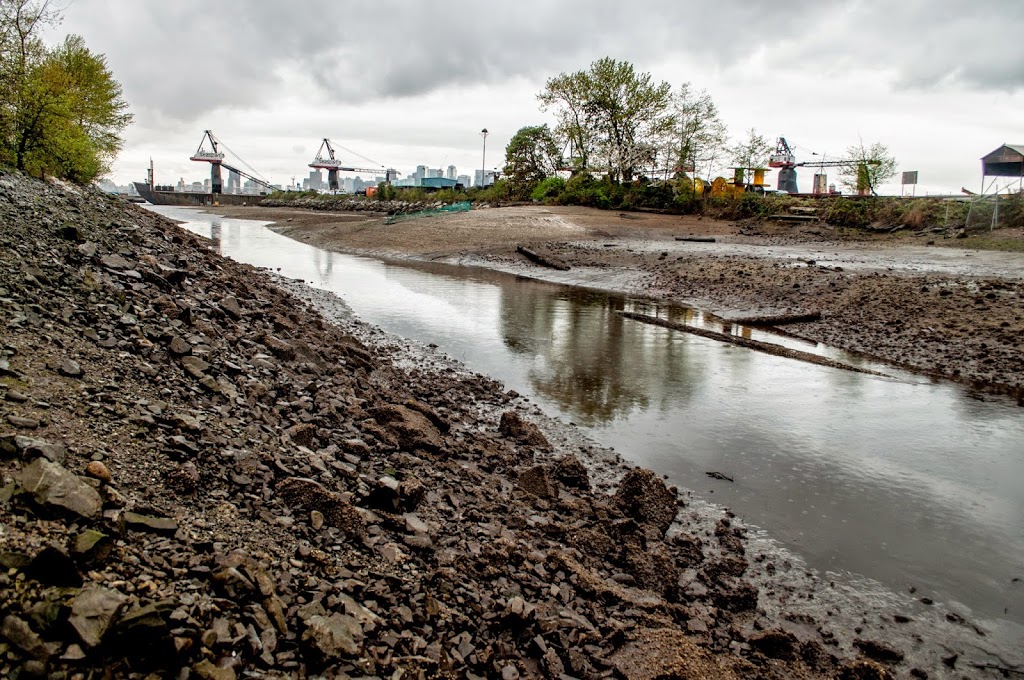 Two good news stories are unfolding at the mouth of MacKay Creek


Photo: Sebastian Merz
Standing above North Vancouver's MacKay Creek, Ken Ashley, Director of the BCIT Rivers Institute explained to the group of—now visibly shivering—keeners how the creek's estuary had recently been put back into a state that resembles more closely what it used to be. And that is in part thanks to its industrial neighbours, Seaspan's shipyard, which is just gearing up to fulfill a multi-billion-dollar contract to build new Coast Guard vessels. Seaspan partnered with the Habitat Conservation Trust Foundation to use funds from a "creative sentencing award" for the restoration of the estuary right behind the shipyard.
Like many other estuaries, the mouth of MacKay creek had been reduced to a straight channel with riprap armouring and a large concrete weir that interrupted many ecosystem functions. The weir, for example, prevented Chum and Coho salmon as well as cutthroat trout from returning to the stream to spawn.
In September 2013 work started on removing the weir and re-grading the creek's tidal benches so they would be able to support saltmarsh vegetation. Logs were placed to provide shelter for fish and wildlife, and students from nearby Bodwell High School put shovels to the ground to help plant native species. Two months later—yes, only two months later—salmon were back in MacKay Creek, as if they had just been waiting for the weir to come down. In fact, that is pretty much what they had been doing, Ashley explained. Year after year, the salmon returned only to get stuck in front of the barrier and to be rounded up by opportunistic harbour seals.
It's encouraging to see two good news stories unfold in such close proximity. The major shipbuilding work on the one hand that will bring jobs and economic opportunities to the community, and the return of the salmon on the other, literally a few meters away. It's encouraging for Georgia Strait Alliance as we are working on our Waterfront Initiative that tries to enable exactly this type of balancing between different uses of our shorelines. Striking this balance won't always be easy, and the results may not be as immediately visible as those in MacKay creek. Urban ecosystems remain urban, and it is often difficult to return them to their natural state because of practical limitations or because we have specific ideas of what nature in the city should look like—another lesson the Urban Watershed fieldtrip taught us.
But the fact that it is difficult and that there are so many diverse interests is precisely why GSA's Waterfront Initiative is facilitating collaboration between stakeholders and partners with a wide range of perspectives on the waterfront.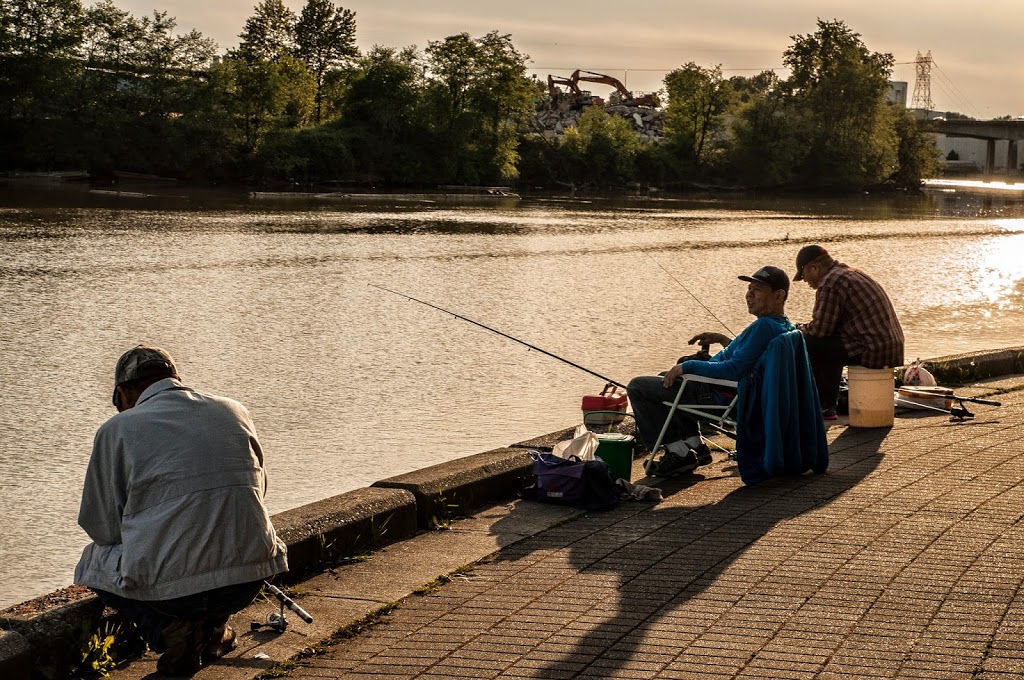 What is your connection to the waterfront?


Photo: Sebastian Merz
In April, we convened the first Waterfront Network Forum, a day of rich and engaging dialogue on what the future of the shoreline may look like. We will be posting more information on the outcomes on our website very shortly. Over the coming months, we will continue the conversation with our growing network and—importantly—with citizens. We want to hear from the city's people how they use the waterfront and what they want its future to look like. In October, we will invite the public to celebrate our shoreline, with a range of exciting activities. Don't miss out and stay in the loop on our website and on Twitter and Facebook.
And if you happen to travel along the North Shore's Spirit Trail sometime soon, check out what's happening at the MacKay estuary. Another piece of good news is that it will likely be much warmer by then.