We all have particular events we look forward to. If you're a fan of comics and science fiction, then the event you count the days to is ComiCon. If you're that person who has to have the latest gadget, then you can't wait each year for the Consumers Electronics Show. But if you're someone who's passionate about the Salish Sea – like me – then you have on your calendar the
Salish Sea Ecosystem Conference
.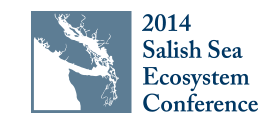 This conference, which was once known as the Georgia Strait-Puget Sound Ecosystem conference, is held every two years and gathers together scientists (from government, academia and other agencies), policy makers, not for profits and businesses from both sides of the border, all with an interest in the health of these waters. This year the 3 day event will take place in Seattle April 30thto May 2nd, bringing together well over 1000 people, based on past conferences.
If I'm doing my math right, this will be my 6th conference and I have no doubt like the ones before, it will leave me inspired and re-connected to those who share my deep concern for this region. The scientist in me will revel in the data – I'm a science geek at heart! – but even more in the wide variety of shared learning that will happen. A small sampling of the
sessions
that will take place during the conference includes "Shorelines of the Salish Sea", "Toxics in the nearshore", "Forage fish research and protection in the Salish Sea", "Marine birds and mammals" and "Beyond the numbers- how science informs decisions to catalyze action" – to name a few!
The policy geek in me is very much looking forward to spending time with those in government, business and the not for profit sector who make good policy – and promote good ideas – based on the latest great science.
It is not a common sight at a conference to see scientists, policy makers and citizens milling about together, but that is what makes this conference so rich and important. The Salish Sea – the beautiful waters of Georgia Strait, the Strait of Juan de Fuca and Puget Sound – is under increasing stress from urbanization and growing use, and the only way to protect and improve these waters is through this type of cross-sectoral shared learning and cooperation. It is what makes this conference so special and so needed.
This is a very important conference to GSA as well, and many program staff will be joining me in Seattle. I will be speaking about our new
Waterfront Initiative
, while
Energy and Shipping
Campaigner Alexandra Woodsworth will be speaking about building a cross-border movement to protect the Salish Sea from the risks of increasing fuel transport.
Clean Marine BC
Program Coordinator Michelle Young will be talking about the success story that is our Clean Marine BC program. We will also be joined by Waterfront Initiative Lead Sebastian Merz who will be sharing more about our newest project and connecting with our local and transboundary partners.
We look forward to sharing our stories with you during the conference (follow us on Twitter @GeorgiaStraitBC, hashtag #SSEC14) and bringing back new ideas, information and partnerships to continue our work to protect the northern arm of the Salish Sea.