What's exciting about the plan is that it follows the idea of building a "complete community", as envisioned in North Vancouver's Official Community Plan. The so called Harbourside project will include spaces to live, work and play—all in one of the most beautiful urban settings imaginable: the North Shore mountains in the back and Vancouver's handsome skyline across the glittering waves.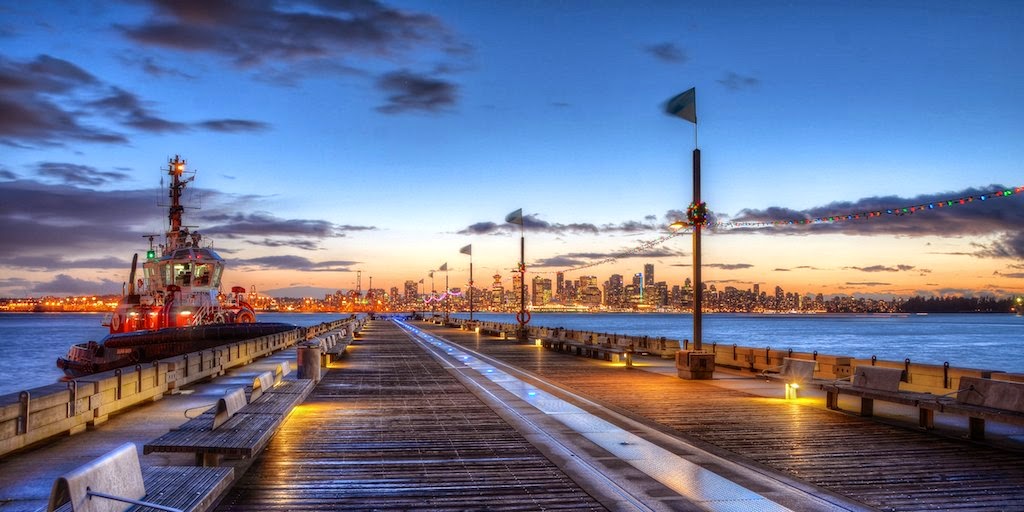 North Van wants to draw people to the waterfront at all times of the day


(Photo credit: Martin Jurek/Flickr, licensed under CC BY-NC 2.0
"All too often, […] tourists and Vancouverites look at the SeaBus and consider a trip over but there isn't enough to attract them to North Vancouver. All of that will change with this bold new plan."
"With the recent award of the 8 billion ship building contract to Seaspan in the City of North Vancouver, it's an exciting time for businesses and industry as a whole […] it's a 25 to 30 year contract, which will generate significant employment opportunities, but it also creates the need for figuring out transportation and traffic management. They are also looking for an opportunity to house their own work force within easy walking distance."
As Derek Lee points out, a landscape architect involved with the project, Harbourside might not only connect industry and community, but it could also become a "pearl on the necklace" that is Spirit Trail, the North Shore's largest urban greenway.
Whether North Vancouver's effort to transform its shoreline—and to be transformed by it as a community—will pay off, will depend on whether the city and all parties involved are committed to an integrated, long term plan for the waterfront, a plan that reflects the environmental, economical and community needs, and not least the ideas and hopes of citizens.
A long-term plan for our waterfront will benefit everyone and it has the potential to make our community a better place. Let's make it happen together!