We're really lucky in BC to have so many different environmental groups working to protect our air and water.  Each represents a different focus or perspective, which is incredibly valuable but understandably that diversity can seem overwhelming to the public at times. So it's not surprising that I'm frequently asked, "Who is Georgia Strait Alliance and how are you different?"
You might think I would answer that question with some words about our regional focus or our grassroots beginning, but to me, GSA's story is much more than that. It's also about how we choose to focus on a specific issue, and how we carry out the work once we've made the commitment to take action.
At GSA, we understand that meaningful change doesn't come quickly.  That is why we have focused our resources on issues that, often, have required well over a decade of hard work to see real change.  A good example is the need for more sustainable approaches to salmon farming.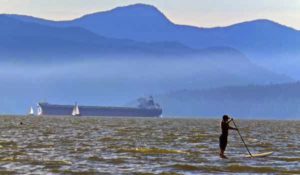 Taking the long view
Photo: Bryan Nordley
When we decide where to focus our energy and resources, we've often start by looking for important issues where environmental leadership is lacking.  Then our job is to raise awareness about the threats, offer long-term solutions, bring together the broad cross section of people who have a stake in the issue, and continue to advocate – until we see that governments and communities have taken on the leadership that is needed.  At that point, GSA's job is to step back and move on to address the next big issue that requires our effort and advocacy – because inevitably, there will always be another big issue needing our focus.
A good example of how we've done this in the past is our campaign to bring sewage treatment to Victoria.  Twenty years ago, GSA and a very few others were lone voices on stopping this pollution threat to the region.  Federally, provincially, regionally and locally, there was solid denial of the need for action – so for next two decades we worked hard to educate, advocate and nurture leadership.
Today, all four levels of government have made the commitment to action, including putting money on the table and creating laws that mandate treatment.  Though the precise details are still being worked out and our voice is required from time to time, GSA no longer needs to expend our limited resources on the Victoria sewage campaign, because others are now leading. That's how it should be, eventually, for all the issues we address.
Understanding this history helps to highlight why we're beginning to focus on new issues, like our innovative new
Waterfront Initiative
and on the serious threats from the major increase in crude oil pipeline capacity and
tanker traffic
planned for our region.
In addition to these newer initiatives, we'll be spending time in 2014 renewing our focus on protecting the habitat of at-risk species like the endangered Southern Resident killer whales. After all, protection of these species is really at the heart of GSA's program and campaigns, so we're looking for ways to make that an increased priority in the future.
But no matter
the issues at hand
, what won't change is GSA's approach:  raising awareness, offering solutions, bringing people together, advocating, building new leadership within our communities – and staying focused on an issue for the many years that might be needed to do this.In the end, our approach is only possible because of the support of individuals and communities who realize that meaningful change takes time.  Investing in GSA bears real, tangible results – so please consider
making a donation today
to support these long term positive changes in our region.  As always, we'll continue to ensure that we're making the greatest possible impact with the funds you entrust to us.