If you're out exploring the coast this week, you might spot a bright yellow wooden card lying on the beach. Pick it up and hang on to it; the cards are part of a new research project we've launched with Raincoast Conservation Foundation to map where oil might travel if there were to be a spill in the Salish Sea.
Over the past week, we dropped 1000 of these drift cards at locations where there is a higher risk of an accident along the tanker route that runs from Burrard Inlet, through the Gulf Islands and out into the Strait of Juan de Fuca. Just like a message in a bottle, the drift cards carry a simple message: this could be oil.
Hundreds of the cards have already been found, and plotted on a map via our new website at
www.SalishSeaSpillMap.org
. You can explore the map to see how far and fast oil could travel, and which beaches, communities and wildlife habitats could be affected in the event of a spill.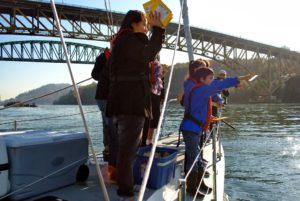 High school students launching drift cards
under Second Narrows Bridge
Photo by Jill Fitz Herschbold
How does it work? Much like oil on water, drift cards are influenced by both surface ocean currents and wind. Each card (made of FSC-certified plywood and eco-friendly paints and labels) bears a unique number that links the location where it was found to the site where it was dropped, which allows us to broadly track the card's movements, and how long it took to travel between the two points. Drift cards have commonly been used as part of oil spill research by universities and government agencies. You can read more about the science of drift card research, including how we chose our drop locations and some of the differences between oil and plywood cards,
here
.
We have two goals with this project. The first is to create a set of maps showing different scenarios for a spill on BC's south coast – data which has so far not been readily available to the public. The second is to raise awareness about the threat of an oil spill in the Salish Sea due to Kinder Morgan's proposed pipeline expansion, and highlight how unprepared we are to deal with a major spill – especially one involving diluted bitumen.
The little coloured markers that represent oil on our map already ring the iconic skyline of Vancouver Harbour. As we were launching some of the cards yesterday near Salt Spring Island, we had a humpback whale for company. No matter where oil was to spill in the Salish Sea, we have so much to lose.
So if you spot one of our yellow drift cards while walking along your favourite beach, imagine the consequences if it were oil instead. Then please
tell us you've found a card
(by phone, email or online) and
take action
to protect this incredible place we call home.
With thanks to Patagonia and the Brainerd Foundation for their generous support of this project.