This fall, Karen
Jørgensen is joining the GSA team as a volunteer and we're so happy to have her on board. From time to time, she'll be sharing her experiences of her work with us and our coast as a guest blogger.
On September 28
th
I took part in the
Great Canadian Shoreline
cleanup for the first time. Despite the wet and cold weather, I joined around 25 volunteers who showed up to clean the shores along Burrard Inlet by Portside Park.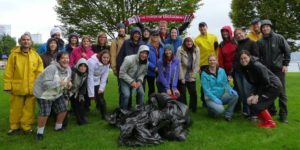 Photo: Karen

Jørgensen
Even though the shore looked fairly clean at first glance, once we were done, our recording sheets and our collecting bags showed things were not as they seemed. We were divided into groups of three or four people and in my group alone we collected 3000 cigarette butts, several plastic bags, a couple of needles and a few batteries. All of this and much more causes great harm to our beautiful coast, which should be there for all of us to enjoy without having to look at all this garbage. I find it very unfortunate that people litter in such a gorgeous place.
One thing is certain – this Shore Cleanup will certainly not be my last. I felt really thankful for being part of the event as spending time along the coast, breathing in the fresh air – and even removing trash from coast – was a great feeling – as Portside Park became a cleaner shore after the cleanup. Despite the

sadness I felt at all the litter left behind
, it was rewarding to be a part of the cleanup as our work showed off immediately. Also, seeing the difference volunteers of all ages can make for our shores was great and I felt wonderful being a part of it. I would definitely recommend that you join the shore Cleanup next year – you won't regret it!