This fall, Karen Jørgensen has joined the GSA team as a volunteer and we're so happy to have her on board. From time to time, she'll be sharing her experiences of her work with us and our coast as a guest blogger.

***
Last Wednesday, I enjoyed a scenic ferry ride from Nanaimo to Horseshoe Bay. Some of the things I enjoy most about taking the BC ferries include checking out what the gift shop has to offer, wandering around the deck in hopes of spotting wildlife as well as just taking in the view from a comfy seat inside, as it has a very calming effect on me.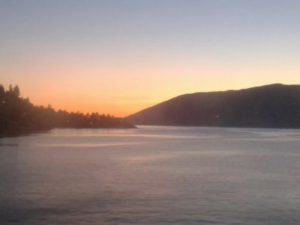 Photo: Karen Jørgensen
As always, the crossing of the Georgia Strait was gorgeous – beautiful mountains in the horizon, sailboats on the water and a blue sky which gradually turned red during the sailing. I have only encountered scenery as stunning as this here in coastal BC. I have spent most of my life in Denmark where the landscape is pretty
but lacks the exquisite wildlife that BC has to offer. I have no doubt that I will miss the BC coast and mountains when I return to Denmark in a few months.

Sailing on this mighty inland ocean really made me realize how fortunate I am to be living on this side of the world right now. There are so many undiscovered treasures to explore. Although I did not spot any wildlife on this ferry ride, as I had hoped, the crossing was still great because of the spectacular scenery. In fact, I did not mind the 15 min delay leaving from Nanaimo since it gave me more time to sit back and enjoy all my stunning surroundings!
I certainly do look forward to crossing the Georgia Strait once again this Thursday when I will be going to Georgia Strait Alliance's fundraising event in Victoria. The event takes place from 6 to 8 pm at the new Robert Bateman Centre Gallery and will include a silent auction and sustainable seafood.